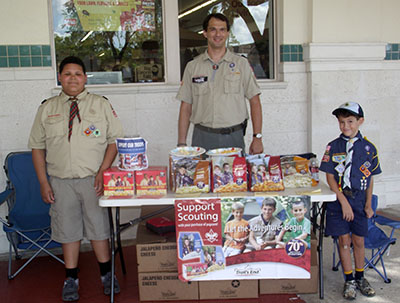 BY DAMON WEBB
The Boy Scouts of America are in the middle of their annual Project Popcorn campaign, and one local Cub Scout pack has been motivated to make the sale a success.
Cub Scout Pack 165 has been challenged by Cubmaster David Taylor to make $30,000 in sales by Nov. 3. The 40 members of the pack are determined to rise to the challenge. If they reach their goal, Taylor has promised to shave his head.
Project Popcorn is a vital fundraiser because each pack is able to retain 30 percent of the money they raise, which is used to support programs throughout the year.
"There are so many activities coming up that I would like my pack to participate in," Taylor said. "I wanted to give them an exciting incentive to really motivate them to work hard and do their best. Also, I will let the top seller in the pack throw a pie in my face. This has definitely kept the energy level high."
Project Popcorn is also important because part of the money raised allows the organization to donate popcorn to troops all over the world. Popcorn supplier Trail's End and the Support Our Troops organization partner with the scouts to make it all possible. "We are happy that we are able to give back to the troops," Taylor said. "We know that it makes a difference."
Pack 165 will be selling popcorn every weekend through Sunday, Nov. 3 at Rocky's Ace Hardware in Wellington. For more information, call Taylor at (561) 644-6581.
ABOVE: Fred Rountree with David and Benjamin Taylor.