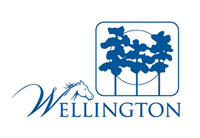 Discussion of the Equestrian Village proposals might have come to a resolution Thursday night, but confusion over council approvals could dredge up the issue again next month.
Members of the Wellington Village Council approved two measures Thursday, a master plan amendment to the site and a compatibility determination — but both were approved with conditions.
These conditions could be deal breakers, representatives of Equestrian Sport Productions said after the vote was taken.
The master plan was approved unanimously with an additional condition that would leave an entry point at Pierson Road as it exists today instead of moving it further east as requested. That was not contested.
The compatibility determination was approved 4-1 with several additional conditions, chief among them that the applicant not be allowed to construct a left-turn lane into the site on Pierson Road. Instead, council members requested additional studies be done over the next year to see if the turn is necessary.
But Dan Rosenbaum, attorney for the applicant, said the turn lane is integral to plans for the site.
"We have to do certain culvert work and other improvements that we've agreed to," he said. "Everything was engineered around that turn lane. If there's not going to be a lane there, everything we had in the land development permit needs to be changed."
After the compatibility determination was approved, there was confusion over several changes to the application required by the council, including questions about a conceptual site plan in the application and which body would approve that site plan.
Village Attorney Laurie Cohen suggested that the council direct staff to put all the conditions in writing and discuss them with Equestrian Sport Productions. Then, if problems remain, council members could ask to re-open the discussion at a meeting next month if they wish to modify their motion.
"My suggestion would be you go ahead and table this," she said. "You can table it to the next meeting to see whether these minor issues could be resolved and then bring it back for those issues."
READ THE TOWN-CRIER'S COVERAGE FROM TUESDAY'S MEETING HERE