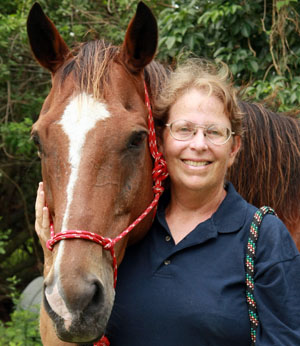 TAILS FROM THE TRAILS
I remember when the Winn-Dixie shopping plaza rose in the midst of the orange groves on Seminole Pratt Whitney Road. It was close by, convenient. Then the Winn-Dixie closed, but the plaza remained. The housing bubble burst, and there were abandoned houses on every block. A lot of people were underwater. Affording a horse got even harder. Tough times.
Happily, things have gotten better. People have moved back, houses have been reclaimed, and while affording a horse is still a stretch for some, a new feed store has opened in the former Winn-Dixie plaza.
Tropical Hay & Feed is the culmination of a dream for June and Robert "Bob" Orvis. He used to be a long-distance trucker in southern Ontario. They met here in Florida six years ago, in Port St. Lucie.
"I've been hauling hay from Canada to South Florida since 1989," Robert recalled. "This area's changed tremendously since then. This area was hardly developed at all. There was nothing out here."
It was hard work, but they loved the Florida trips.
"We'd go to the farms in Canada, load up the tractor-trailer, then drive to Florida, which took three days," June recalled. "We'd leave Canada on a Wednesday and be in northern Florida Friday evening. We'd stay a week, sell all the hay, then load up on tropical plants and head back to Canada. Then we'd do it all over again. We typically made runs three times a month."
Robert always wanted to open a feed store, and when the trucking got a bit too long, hard and tiresome, he and June decided to give it a go. Three years ago, they moved to a house in The Acreage and looked seriously into opening that store. Tropical Hay & Feed is the manifestation of their dream.
"We carry the complete line of Walpole feeds for horses, pigs, cows, chickens, rabbits, goats and sheep. If Walpole makes it, we have it or can order it," June said. "We offer great products at good prices, so it's a little more affordable to keep your horses and livestock."
And then there's the hay.
"We only deal in premium hay," June said. "It's all about color and weight. Our bales are green and heavy. We have two- and three-string bales of alfalfa from Utah and Nevada, compressed timothy from Alberta, Canada, and coastal from Mayo, Florida."
I love their hay. Or, rather, my horses love their hay. I've been a faithful customer for four years, and my horses eat every last scrap of the three-string alfalfa.
"So far, business has been very good," June said. "We've had a steady stream of customers, some new, some we've been doing business with for 20 years. Most of them are glad we're here, reasonably priced and convenient. It saves gas. We also offer free delivery."
When I stopped by their store a couple of weeks ago, I was glad to see a steady stream of customers.
"I've been a customer of theirs for the last five minutes," said Maria Vitale, who bought hay and horse feed. "I saw the sign out front and figured I'd stop and check it out. This is a lot closer to home, more convenient."
Vitale liked the selection. "When hay prices went up a while back, I had to spend a lot more money, but I wasn't always getting such great hay," she said. "I like heavy bales. If I can pick a bale up easy, it's no good. I'd rather spend a little more on better, heavier bales. I like these. I know I'll be back. This is a very nice store."
Beth McFarland had been in before.
"I come once a month. I like supporting the local people. This is where I will shop," she said, picking up bags of sheep and chicken feed, and one nice, big bale of hay.
Karen Burgos stopped by to look the store over. She left with a bale of compressed timothy hay for her two horses. "It's very nice. I'll be back," she said.
Dawn Brow bought a bale of the three-string alfalfa for her horse. "I saw the sign as I was heading past and decided to stop," she said. "This is a lot more convenient, a much shorter drive for me, and they have good prices. I'm glad they've opened. I'll definitely be back."
Kelly and Junior Rodriguez had been buying from Tropical Hay & Feed for a few months before the store opened. They stopped by the store to stock up on supplies for their three horses.
"We think this store is great," Kelly said. "We like not just their products but them. They're good people, always accommodating, willing to deliver right away if we're in a bind and need something. Their hay is great. We love it. It's way better than other hay we've found locally, and the price is fair. We recommend June and Robert to people all the time. If you haven't tried them, you should give them a shot. You'll be very happy."
If you haven't visited the store yet, this weekend would be a great time to stop by. They're having their grand opening Oct. 11-13. For the grand opening, they'll be offering refreshments, plus 10 percent off any feed in the store (pickup only). They'll be open their regular hours: 9 a.m. to 6 p.m. Monday, Wednesday and Thursday; 8:30 a.m. to 7:30 p.m. Tuesday and Friday; 8:30 a.m. to 5 p.m. Saturday; and 9:30 a.m. to 4:30 p.m. Sunday.
I'll be there. Hope to see you there, too!
For more information, or to schedule a delivery, call Tropical Hay & Feed at (561) 727-9594.