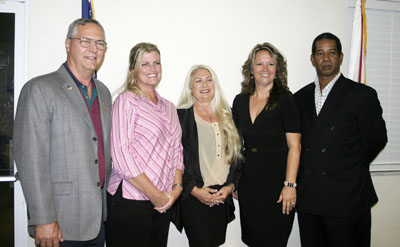 The Indian Trail Improvement District Board of Supervisors voted last week to give Interim District Manager Jim Shallman a six-month probationary period in the post after deciding to scrap the selection process for a permanent manager it went through over the summer.
At a special meeting Friday, Oct. 4, ITID Vice President Carol Jacobs said she was disappointed with the interview process, primarily because other candidates were allowed to sit in the audience during the interviews.
"I understood that they were going to come in one at a time, and I basically felt that they told us what we wanted to hear," she said. "I'm not saying that they weren't qualified, but right now we have a lot going on in the outer areas of Indian Trail."
Jacobs said she has been impressed with Shallman's performance since former District Administrator Tanya Quickel left in June. She also had praise for Interim Director of Operations and Maintenance Juan Massarda. "I have been very impressed with both Jim and Juan," she said.
Jacobs suggested keeping both for a six-month probationary period, allowing Shallman to hire the people needed to fill vacant office and finance staff positions. "Then, if we feel that Jim is not doing as good as we would like, we go out looking," she said.
Jacobs noted that Shallman is familiar with district operations because he has been there for five years. "We have a lot going on, and we need to focus," she said.
Jacobs added that Shallman is easy to talk to. "He's got to deal with five personalities, and he seems like the kind of man who can do that," she said. "And employees seem to like him, so I would like to leave it the way it is on a six-month probationary period."
Further, Jacobs said that she would like the manager, operations and maintenance director and parks and recreation director all to answer directly to the board.
Supervisor Michelle Damone was concerned about Shallman's ability to return to his previous job as a finance department employee if the board were to decide that he was not performing satisfactorily as manager.
"He's been a loyal employee to the district," Damone said. "I don't necessarily agree that you should be district manager, Jim, but I feel that you should always be a part of Indian Trail. I would never want to see you leave."
ITID President Jennifer Hager said Shallman had willingly stepped up when he was asked to fill the position temporarily, and pointed out that she had not been satisfied with the list of manager candidates.
"I would definitely like to see Jim stay, and the employees are working well with him," Hager said.
Resident Randy Guncheon agreed that Shallman was doing a good job and should be left in the position. He said the previous interviews and selection of manager candidates should be thrown out.
Supervisor Ralph Bair said the current candidate pool should be retained.
"If we have another layer of people trying to run the district in their own way without direction from some supervisor, then I can't see that they are going to accomplish a lot," Bair said, adding that the heads of departments attend board meetings, where they can be given direction.
Damone made a motion to throw out the candidates pool, which carried 4-1 with Bair opposed.
Human Relations Attorney Lara Donlon suggested that with Shallman continuing as interim manager, he be given the authority to hire additional personnel so that the district could function efficiently, and that he be given a higher salary commensurate with his additional duties.
Supervisor Gary Dunkley made a motion to maintain Shallman for a six-month period with full hiring and firing authority, with an evaluation at the end of six months and the protection to go back to his former position as a finance department employee.
Damone suggested that the evaluation determine whether he becomes the permanent district manager or goes back to his previous role. Dunkley agreed to amend his motion, which carried 5-0.
Damone then made a motion to give Shallman a raise, suggesting a salary of $80,000 a year. It carried unanimously.
She also asked that Shallman hire a finance director as soon as possible.
Jacobs asked that Massarda be named operations and maintenance director for a six-month probationary period, and Shallman said he agreed to that.
Dunkley, who serves as board treasurer, has been sidelined by a condition that temporarily prevents his functioning at full physical capacity. He asked to have someone available to help him carry out his board functions.
Dunkley noted that he was at the meeting without his doctor's permission and that he wished to have things in place so he could perform his duties if the doctor tells him he should not attend meetings for several months.
Viator suggested that this question be discussed at the board's next regular meeting Oct. 23.