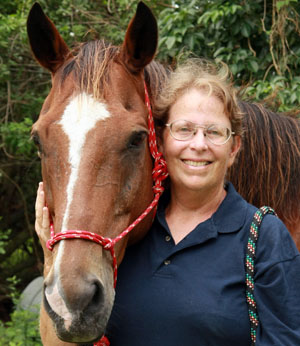 TAILS FROM THE TRAILS
Charlie James has been co-chairman of the Horse Tent at the South Florida Fair for three years.
"I've been involved with the program for a long time, but I'm not in charge," he protested. "I'm just on the committee."
Along with coordinating horse events at the fair, he's most involved with the Youth Horse Committee and wants to see more young people get involved with horses at the fair.
"Joining the Youth Horse Committee is a great introduction to horses for young people," he said. "You don't need to have a horse or even any horse or riding experience. This is a fun, safe way to learn about horses and be around other kids with similar interests."
The mission of the Youth Horse Committee is to assist youth in attaining safe horsemanship and horse training skills while developing self-reliance, leadership, sportsmanship, resourcefulness and other desirable life traits. The group encourages family unity with adults and parents by offering opportunities for people of all ages to participate in activities at the fair.
The Youth Horse Committee is dedicated to affecting the lives of horse-interested young people through engaging family experiences, educational activities, healthy competition and quality leadership opportunities, which ultimately foster a positive, lifelong relationship with horses.
"In order for any youngster to participate with any animals at the fair, they are required to obtain their ethics certification," James explained. "This isn't just for the horse tent, it's for any interaction with any animals: poultry, rabbits, cattle, swine, llamas, even dogs or cats."
If you're between the ages of 8 and 18, you're required to attend the Youth Livestock Show Ethics & Animal Care Training Program.
"This clinic is free and presented in cooperation with the University of Florida and supported by the Florida Department of Agriculture & Consumer Services," James said. "The class covers a wide range of subjects, including proper handling, nutrition, housing and animal ethics. This is easy to do. There are two free workshops coming up soon."
The first will take place Oct. 12 from 9 a.m. to noon at the Okeechobee Agricultural Center in Okeechobee. The second will take place Nov. 9 from 9 a.m. to noon at the Mounts Botanical Garden building at 531 N. Military Trail in West Palm Beach.
"You only have to attend one class, and the certification is good for three years," James said.
Miranda Mattino joined the Youth Horse Committee five years ago, before she bought her mustang, Spirit. She enjoys mentoring younger kids and introducing them to horses.
"Being part of the committee takes dedication and hard work, but mostly it's a lot of fun," she said. "I love riding with the other members. My favorite thing is helping decorate the Horse Tent each year for the fair, painting and making posters. The most important thing is to have fun and enjoy what you're doing, which is easy on the Youth Horse Committee."
"I love being a member of the Youth Horse Committee," added Rebekah Galloway of Wellington. "I joined in March 2011. I don't own a horse, but I want to thank Mr. Charlie and Miss Amy Jones greatly for helping me learn to ride. I really like it. I ride LB, a Palomino Quarter Horse, and I rode him in demonstrations at last year's fair."
Galloway enjoys being part of the Horse Tent team.
"We work together and help each other," she said. "We work with little kids and teach them about horses. We also help out at the agriculture camp held at the fairgrounds in June and teach about horse handling and safety. This is a very loving team and would help anyone get started working with horses. Riding and being around horses is a lot of work, but it's very rewarding. Horses have such different personalities, and they bring out your personality. They help you find yourself. They're amazing."
James would love to see more young people get involved with the Youth Horse Committee.
"Horse ownership is not required to participate in many of the activities at the South Florida Fair Horse Tent," he said. "During the un-mounted meetings, we explore different breeds, learn about health and care of horses, and work on projects and activities."
The program creates a way for kids to safely explore different ways to enjoy horses.
"Kids can help out at the Horse Tent in a variety of ways," James said. "We can always use volunteers to help explain different things about horses and their care, to help with barn duties, and to exhibit and ride in the demonstrations. This is a fun way to earn community service hours toward the high school graduation requirement."
In this way, the older kids before mentors for the younger ones.
"These active and inspiring kids not only show horses, they're also leaders and mentors for younger children just getting started," James said. "They understand the horse industry and have enough energy to make your head spin. A great way to unleash a child's imagination is to get them on the back of a horse."
"I enjoy being a member of the Youth Horse Committee because you get to make a lot of new friends," said Jesse James, 24, daughter of Charlie and Pam. "I've been a member for five years, and I've learned a lot. We do lots of fun horse events together. Everyone's welcome to join."
The next unhorsed meeting will take place Tuesday, Oct. 8 at 7 p.m. at Hilary's Restaurant & Deli at 650 Royal Palm Beach Blvd. in Royal Palm Beach. Anyone interested in participating in this year's Horse Tent activities at the South Florida Fair, whether youth or adult, are urged to attend. For more information, e-mail Steve Lamerson at slamerson@hotmail.com.