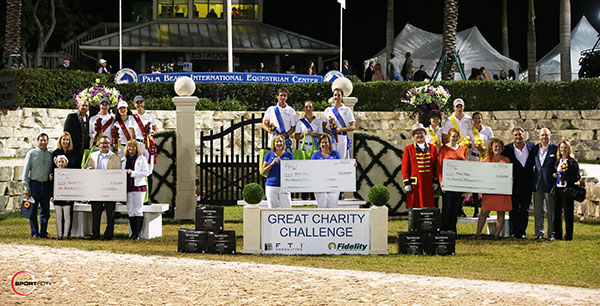 The fifth annual FTI Consulting Great Charity Challenge presented by Fidelity Investments is back and bigger than ever, with $1.75 million in prize money for more than 30 lucky Palm Beach County charities.
Though the giveaway isn't until January, the excitement kicks off next weekend at Winterfest 2013 on Saturday, Nov. 30, giving the whole community an opportunity to get in on the spirit of giving while enjoying the family-friendly event.
"It's amazing that the Great Charity Challenge has grown from a dream my daughter, Paige, and I had to an amazing event giving $1.75 million away," said Mark Bellissimo, managing partner of Wellington Equestrian Partners. "We can measure the success not in terms of dollars raised, but in the people we've helped."
In the five years since Bellissimo and his daughter, Paige Bellissimo, began the program, the event has grown in leaps and bounds — from a list of 60 charities signing up in the first year to more than 300 applying this year. The event gave away $500,000 in its inaugural year, and has given more than $4.2 million to nearly 100 charities since that time.
"Our goal is to make the annual fundraiser $3 million to $4 million per year," Bellissimo said. "We're well on our way to doing that as we continue to grow. I'd love to get a lot more corporate sponsors and make that $5 million."
The FTI Great Charity Challenge will take place Saturday, Feb. 1 at 6 p.m. at the Palm Beach International Equestrian Center, where the selected charities will come out to cheer on their team of riders and horses, who will race over a course of jumps for the best time to win.
But there's plenty of excitement before then.
Next Saturday, the hopeful charities, along with the entire community, will trek to the Palm Beach International Equestrian Center for the Wellington Chamber of Commerce's Winterfest 2013 and the first three rounds of drawings, which will determine some of the charities that will be in the running for a piece of the prize money.
A family-friendly event, Winterfest is free and open to the community, with highlights that include a World Cup show jumping competition, a kids winter wonderland with food, bounce houses, snow, carriage rides and more, a food and wine festival, a visit from Santa Claus and a performance by headliner Vanilla Ice.
For more information about Winterfest, visit www.wellington chamber.com/winterfest-2013.
The Great Charity Challenge drawings kick off at 5:15 p.m. Additional drawings will be done on Sunday, Jan. 5 at the Mar-a-Lago Club with Donald Trump, and the final two charities will be drawn on the night of the big event as wild card picks.
"Everyone is still in the running up until that night," Bellissimo said. "And even if you're the wild card pick, you can still win."
Last year, the Junior League of Palm Beach County — a wild card draw that night — took third place, he noted.
Bellissimo said the goal was to create an event that puts all charities on an even playing field, and indeed a lesser-known charity can take home just as much or more than a nationally known one.
The top-earning charity so far is Wheels for Kids, a small, volunteer-run, nonprofit organization that provides custom wheelchairs to children and young adults. To date, the organization has won $210,000.
Founder Denise Jungbert said she started the organization with $20 but never dreamed she'd raise so much money.
"In the last three years, we've been able to donate about 15 customized wheelchairs to kids in need," Jungbert said. "Mark and his family have made a huge difference in not only the lives of our kids, but lives throughout the community. Our community had nothing of this nature, where a charity had a chance to win free money. This is a blessing. It's amazing."
Each team selected is guaranteed at least $10,000, with the winning charity taking home $150,000.
"The theme is that everyone wins that night," Bellissimo said. "I think that's why it has become so viral. One hundred percent of the funds raised are distributed to the charities. There are no administrative fees. If we raise $1.75 million, we distribute $1.75 million."
Bellissimo said he and his daughter wanted to help charities big and small at a time when the economy prevented many from giving back to the community.
"Other than a big foundation or endowment, there aren't a lot of opportunities for charities in Palm Beach County to have access to a great set of resources," he said. "We wanted a night to celebrate the heroes in this community who run the charities that have such a huge impact on the community. In tough financial times, it's very hard for charities to survive. Even a little help goes a long way."
While all the charities come from Palm Beach County, 25 percent are directly from Wellington, with the Wellington Public Schools PTA/PTSA/PTO — an organization benefiting Wellington's public schools — having a permanent place in the Great Charity Challenge.
The event has drawn huge support in the community, with team sponsors returning again and again to help. Bellissimo pointed to Kim Van Kampen, who donates $100,000 each year from her family foundation to sponsor teams, and the Moran family, who donate $50,000 each year.
"People are really getting engaged," Bellissimo said. "And once they are partnered with a charity, they get to know them and work with them. This allows charities to build connections."
He noted that Gustavo Mirabal, who sponsored Wheels for Kids, helped them purchase additional wheelchairs.
"It's not really about a specific charity," Bellissimo said. "We really want to celebrate the spirit of giving and expose the good the charities have done."
And the goal is to have fun doing it as well. The event is family-friendly, and shouting and cheering for your favorite charity is encouraged. A house band pumps up the crowd, and families can enjoy the atmosphere, great food and an exciting event.
"A lot of times you go to fundraisers and you have to wear suits and ties," Bellissimo said. "They're not environments for kids. We wanted to have an event where you could bring out the families and have them experience the philanthropy. It's a fun time, and it exposes people to equestrian sports who might not otherwise have the opportunity."
Bellissimo said he hopes the Great Charity Challenge is his legacy in Wellington.
"I like to think we've done a lot of great things in Wellington," he said. "But for our family and our partnership, I think the greatest thing has been the ability to raise and distribute funds to these great organizations."
For more information, visit www.ftigreatcharitychallenge.com.
ABOVE: The top three winners at last year's FTI Consulting Great Charity Challenge were the Juvenile Diabetes Research Foundation of Greater of Palm Beach County in first place, College for Kids/Take Stock in Children in second place and the Junior League of the Palm Beaches in third place. Photo by Sportfot