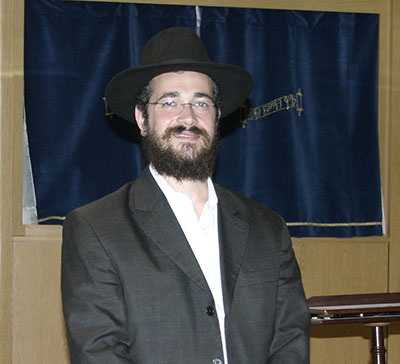 Chabad of Royal of Palm Beach has purchased the former Temple Beth Zion property at 129 Sparrow Drive with the help of the Brooklyn-based headquarters of the Chabad-Lubavitch movement of Hasidic Judaism.
The 10,860-square-foot building located on almost 2.5 acres was purchased for $900,000 in August, according to records from the Palm Beach County Property Appraiser's Office.
The purchaser is listed as M.Y. Keren Hashluchim Inc., a nonprofit religious organization based at 770 Eastern Parkway in Brooklyn, N.Y. — the same address as the international headquarters of Chabad-Lubavitch.
After 32 years of operation in Royal Palm Beach, the Conservative Jewish congregation of Temple Beth Zion announced in February that it was merging with Temple Beth El in West Palm Beach, citing demographic and economic changes for the decision.
Rabbi Zevi Schtroks has been operating Chabad of Royal Palm Beach out of an office at 11440 Okeechobee Blvd., Suite 103, for several years. He followed reports of the temple's closure with great interest.
"We started to hear that the temple was going to be sold," Schtroks told the Town-Crier on Monday. "As time was going on, we took an interest of how much it was being sold for."
While the original asking price of $2.7 million was more than Schtroks' congregation would be able to pay, he continued to look into it.
"Between our members and the people we engage with — we're not far, we're just five minutes around the corner — we spoke about it and people made an effort to see who they could reach out to, and try to make this happen," he said. "However, it was a bit beyond our reach."
Several organizations expressed an interest in the property, including the Village of Royal Palm Beach. However, the village later withdrew its offer.
Schtroks continued to meet with temple representatives.
"It was $1.3 or $1.4 million that we could have gotten it for at the time," Schtroks recalled. "Time went on, it came to Passover, and that's when I said I couldn't go more than a million."
While the property will stay in the hands of the Brooklyn-based owners for legal purposes, it will be operated by Chabad of Royal Palm Beach and will be dedicated to serving the greater Jewish community, Schtroks said.
He noted that the Chabad movement is different than Temple Beth Zion's Conservative roots. Chabad practices a more traditional form of Judaism and is also more outreach-oriented. "We open up centers throughout the world," Schtroks said. "We have over 4,000 centers globally, and we reach out to any kind of Jew. It makes no difference, Reform, Conservative or the atheist out there. We want everyone to know that there's a home for them."
Chabad of Royal Palm Beach has been in existence for about six years. Schtroks came to Royal Palm Beach at the suggestion of Rabbi Mendy Muskal, who runs the Wellington Jewish Center, also a Chabad congregation. Muskal is Schtroks' uncle through marriage.
Schtroks and his wife came to Royal Palm Beach not really knowing anyone in the community. They gradually met people and started their congregation with once-a-month lunch-and-learn meetings before they actually had a location.
"Different businesses used to host a luncheon for the Jewish people in their community to come to them, and we spoke about our heritage, and from that, we slowly built into renting space to affiliate our services, classes, outreach programs and this is where we are today," he said.
The Wellington Jewish Center is known for large, well-attended holiday celebrations and hands-on, participatory activities, and Schtroks said his congregation is similar.
"Wellington is more of a younger crowd than what we have over here, but we facilitate similar kinds of things," said Schtroks, 31.
He said taking over the Temple Beth Zion building, given its prime location just north of Veterans Park, is ideal for hosting community events.
"I was speaking today with [County Commissioner] Jess Santamaria," Schtroks said. "He said that it couldn't be more perfect for us to come in. That's the best thing, for us to take the space."
He said the congregation has more than 200 families participating in the different services offered by Chabad of Royal Palm Beach.
"Now we are structuring it for different memberships, so we're going to grow from there as we open up over here," Schtroks said.
Activities offered include regular and special holiday services, weekly classes, women's classes, women's and men's clubs, a children's after-school program, bar and bat mitzvahs and education, and outreach to hospitals and assisted-living facilities. Many of the activities are facilitated by volunteers.
"You don't have to be a member to be a part of what we do," he said. "We're here for the community."
Originally from London, where his father served as rabbi at a Sephardic synagogue, Schtroks studied there until he was 18, then went to Israel to study. "I went to Russia, Rostov, then went back to New York for three years to do my rabbinical studies."
Schtroks and his wife have four children.
"We got married in Israel," he said. "My wife is from Israel. After spending a few months in Israel, we went to New York, and within about three months, we came to Florida."
Compared to the cities where he grew up, including London and New York, Royal Palm Beach's residents are more relaxed and easygoing, he said.
"We've had a lot of welcomes from a lot of people," he added. "It's a great area, and with the purchase of this building, I believe it's going to be an amazing opportunity for growth of much of the heritage that we have in this area."
While his congregation has been anchored in senior citizens and snowbirds, that is changing. "In the past three years, we have seen a lot of younger families come in and join the different programs," Schtroks said.
Unlike many Jewish congregations, Chabad does not put a focus on membership. "Here, it's not about members," he said. "It's about, we're here and you're here, so let's grow together. Let's do what we can do best. That's why we offer a large variety of programs. The education that people get over here is just unbelievable. It makes no difference in their background that they come from."
Upcoming Chabad of Royal Palm Beach programs include a free Chanukah concert on Wednesday, Dec. 4 from 5 to 8 p.m. featuring Benji Rafaele.
For more information about the congregation, visit www.jewishroyalpalm.com.
ABOVE: Rabbi Zevi Schtroks inside the former Temple Beth Zion building, now owned by Chabad of Royal Palm Beach.