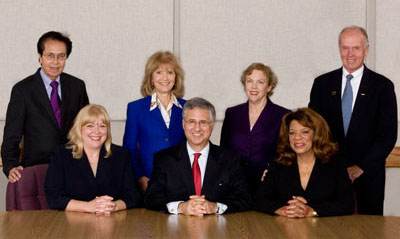 The Palm Beach County Commission chose Commissioner Priscilla Taylor as its new mayor Tuesday, replacing Commissioner Stephen Abrams, who became the county's first mayor after the commissioners changed the title of the presiding officer last year.
The decision to change the title was controversial, but Abrams said he thought the moniker had expanded his role in the county and statewide. Abrams had argued that the title "commission chairman" raised confusion as to his status, since the positions in Broward and Miami-Dade counties are called "mayor."
The change was precipitated after then-Commission Chairwoman Shelley Vana had trouble getting into a function for President Barack Obama in Palm Beach County.
"It did provide, in all seriousness, a great opportunity for me, and I'm sure for those who succeed me, to gain a true countywide perspective," Abrams said. "I attended many events throughout the county. I worked with the mayors of Broward County and Miami-Dade County as part of the Three-Mayor Compact that we entered into, attended many meetings with out-of-town CEOs on behalf of all 38 municipalities and the unincorporated areas, so I hope that future mayors will continue to build on these efforts."
Abrams recalled the successes of the past year, including passing a budget with no tax rate increase thanks in part to a local economy that is on the upswing.
"We sold Mecca Farms, approved a firefighters' contract, dramatically reduced garbage collection rates, renegotiated and re-launched the prescription drug card program, signed the beach management agreement, just to name a few," he said.
Abrams distributed a caricature to commissioners of the board with Abrams wearing a crown, in reference to a comment Commissioner Jess Santamaria had made, arguing against changing the title to "mayor," saying, "Why not name him king?"
Santamaria congratulated Abrams on his year as mayor. "Although you did not choose my suggested title of king, I'm glad you did have a crown on in the picture, so in a way you did accept my title of king," he said. "Overall, I congratulate the way you control the audience, and for that I think you did a good job."
Commissioner Mary Lou Berger, who had opposed the change, said she saw the validity of the title change when she attended a National Association of Counties meeting.
"You could really tell a difference in how people reacted to that," Berger said. "It was the right decision, and I wanted to go on record saying that."
Commissioner Shelley Vana said Abrams' sense of humor reduced the stress level through many important situations.
Taylor agreed, saying that it was a pleasure working with Abrams. "You have that type of humor that even though sometimes we get so tight when we sit up here, especially with the decisions we have to make, you bring that lightheartedness to let us know we're doing the right thing," she said.
Commissioner Paulette Burdick also acknowledged Abrams' leadership.
"We have to make some very difficult decisions, and they're not easy, but you always brought not only brevity, which is important in keeping the meetings running smoothly, but levity."
Commissioner Hal Valeche said it had been a pleasure to watch him operate. "You've made our meetings really enjoyable," Valeche said. "I hope the public shares that view."
Vana nominated Taylor as mayor, which carried unanimously. Valeche nominated Burdick as vice mayor, which also carried unanimously.
Taylor said she looks forward to working with the other commissioners in the coming year for the betterment of the county.
"I know that in the year ahead, the same resilience that got us elected will show itself in our countless debates," she said. "We will all have strong opinions, close votes, points of frustration and points of triumph. There will be days when we will feel isolated and days when we will feel like a smooth and cohesive team."
Taylor predicted the coming year will be a busy one.
"Things are beginning to change already," she said. "We're seeing more requests for permits, businesses coming to the county, hopefully investments that have made Palm Beach County strong, such as infrastructure, our beautiful parks, agriculture and other areas of importance."
She said she would like the county to continue to work with entities such as the Business Development Board to bring more economic development to the county.
"Bringing more businesses should bring more jobs," Taylor said. "I would like to see that all residents of Palm Beach County have an opportunity to work and better themselves. To do this, we must insist on local hires whenever possible, and erase any sign of disparate treatment of any group."
Taylor added that the county took a bold step to undertake a 10-year plan to end homelessness but that funding is critical. "I look forward to working with our partners in the legislature to develop a dedicated funding source," she said. "However, in an effort to begin local initiatives for this, I am proposing a Palm Beach County Mayors' Ball to be an annual event, with all of the proceeds going to our homeless initiative."
Taylor said she is also working with the Homeless Advisory Board to allow them to use her day at the Trump International Golf Club next year to generate additional money.
She also urged her fellow commissioners to think about the county as a whole.
"Regardless of whose district our constituents are in, we should do what is right for the county as a whole," Taylor said. "Our decisions are never as simple as growth versus intensification, or roads versus transit, or arts versus homelessness," she said. "We must make an honest effort to do the best on all issues."
Taylor said she believed they should keep pace with growth and continue to find support for neighborhoods that might feel the strain.
"We need to catch up on our infrastructure and find ways to keep investing," she said. "We're coming off one of the worst recessions that we've had in recent times. I feel we must be prudent in our spending… and build up our reserves just in case we have another rainy day."