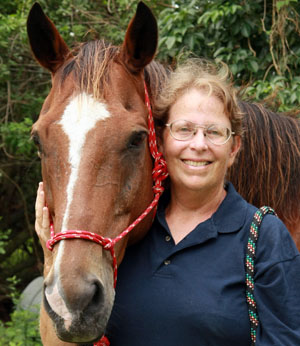 TAILS FROM THE TRAILS
Kelly Caldwell-Sachs splits her time between Colorado and Wellington — skiing and horses. The horses are relatively new. She got into horses at 26, and it blossomed from there. She started out showing hunters and equitation. Recently, Caldwell-Sachs has gotten into driving.
"I have seven horses, four of whom I compete with at the Winter Equestrian Festival. I also have Godzilla, a mini, and Spike, a small Warmblood pony," Caldwell-Sachs said. "I got them for my 3-year-old twins, Quinn and Drew, but in the meantime, they were just standing around with nothing to do. They really needed a job. I decided driving would be just the thing for them."
And so, this past July, Caldwell-Sachs bought a cart and went looking for someone to teach her and the horses. She found Donnie McKenzie.
"I'm originally from North Carolina, and moved to South Florida in the 1980s," McKenzie recalled. "I was a Standardbred racehorse trainer at the South Florida Trotting Center, breaking and training the young horses, racing them at Pompano. I've always worked with horses my entire life. I fell in love with the life at a young age. I don't race anymore, just train horses, mostly hunter/jumpers, and I work as a groom, and of course teach horses to drive. A kind of jack of all trades."
McKenzie said teaching horses to drive is his forte. He harnesses them up, line drives them, then presents them to the cart; it's second nature to him.
"The most fun part is starting a horse who doesn't know anything and ending up with a finished horse who'll go anywhere and do anything," McKenzie said. "Driving helps instill confidence in nervous horses, teaches them manners. You and the horse become one. Of course, anytime you're dealing with horses, you have to keep in mind that no matter how well trained they are, a fly can bite them and set them off. You're dealing with a 1,000-pound animal that can become an elephant in the blink of an eye. You have to be on guard. You can trust 'em 60 percent of the time, but you have to keep your wits about you the other 40 percent."
McKenzie is willing to work with anyone and any horse. He thinks that having a horse who drives as well as rides is a plus.
"Horses like driving, once they get the knack of it," he said. "Even horses in competition. It calms them down, gives them a good head, puts them in another frame of mind, keeps them fit in a different, more subtle way, and takes the pressure off their legs and backs. And, of course, it's perfect for that pony that's just standing in a field, needing a job."
Depending on how much training a horse has had, his personality and trust level, McKenzie said it typically takes about two weeks to break a horse to a cart. However, he has had horses jogging around a practice track two days after starting them.
"I love working with Donnie," Caldwell-Sachs said. "Driving is not that much different from riding. Of course, you're not on the horse, but he still has to listen to your hands, and the contact is more sensitive. I've learned a lot through driving to use when I'm riding. It's wonderful."
Driving is also far more leisurely a sport.
"The most fun is going driving on a Sunday morning with a cup of coffee, listening to a book on tape, relaxing and enjoying the scenery. It's not as physically demanding as riding, gives my legs a rest. And the horses are happy to do it, get some exercise," Caldwell-Sachs said. "The driving community as a group are just the nicest people, so welcoming. They love sharing knowledge and are always eager to help you with anything."
And in the community, McKenzie is a fixture.
"Everyone knows Donnie. He's a super guy, so nice. You can't help but want to talk with him. He's like a horse whisperer, just amazing. He's not just a trainer: he's a horseman through and through," she said.
Caldwell-Sachs is having Donnie teach her show horses to drive as well. She said that pulling makes them calmer, more trusting, stronger and happier.
"At the end of the day, they're all horses," she said. "They enjoy having different jobs, learning something new instead of doing the same old monotonous routine day after day, which can make them sour. Driving is fabulous for their brains and butts, like cross-training. It gives them something else to think about."
McKenzie also enjoys working with Caldwell-Sachs.
"She and her kids are having a blast. That's another nice thing about driving. You can bring along friends. It can be a family thing, whereas when you're riding, it's usually one person to a horse," he said. "There are more and more driving clubs popping up all over. Not everyone is into jumping or dressage. Driving is another way to enjoy horses. It's a great outlet for people who enjoy being around horses but don't want to ride. You might be surprised how much fun you can have driving a horse. I highly recommend it."
Interested in having Donnie McKenzie teach you and your horse to drive? Give him a call at (561) 722-8208.