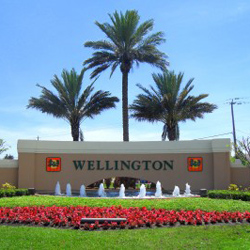 The Wellington Green Market, presented by Grand Champions Polo Club, returns to the Wellington Municipal Complex next weekend, offering fresh produce from farm to table. The green market kicks off Saturday, Nov. 9 at 9 a.m. and will be open each Saturday through April 26.
For the first time, the Wellington Green Market will be entirely a growers market, meaning all the fruits and vegetables will be sold directly by the farmers cultivating them, organizer Peter Robinson said.
"It has always been my dream to have an all-growers market, and we're finally able to do it," Robinson said.
Farmers will come from Wellington, Loxahatchee Groves and The Acreage, and other parts of Southeast Florida.
He noted that vegetables begin to deteriorate from the moment they are picked, but customers of the Wellington Green Market can trust their vegetables are fresh.
"The advantage to having the growers there is you know everything was picked within the last 48 hours," Robinson said. "You can talk to the grower about soil conditions, when it was harvested and even get recipes. They can tell you about other things they are growing and what is coming."
Robinson said it's also useful for customers who have questions about the produce. "If parents have concerns about allergies or consumption, the farmers can answer much better than I can," he said. "That's the great thing about having them there."
Another big change in its third year is that the Wellington Green Market is now sponsored by the Grand Champions Polo Club. "They'll be there every week to promote their polo club," Robinson said.
The Grand Champions Polo Club, near the intersection of Lake Worth Road and South Shore Blvd., offers tournaments during the equestrian season. "They'll be out there promoting that they do polo lessons, have a beautiful polo field and more," Robinson said. "They want the community to come out and get involved."
Though there are a lot of new things to be excited about this year, Robinson said customers can expect the same favorite vendors from the past, plus even more. The Wellington Green Market will boast more than 60 vendors this season. "All of the favorites are back," he said. "The cider donuts, independent seafood, ghost peppers, they will all be there. There will also be two vendors selling local honey, orchids and more. We have a really good lineup."
The market is also dog-friendly, and Robinson said two dog-biscuit bakeries would be selling treats for the dogs.
Guests will be able to enjoy local talent during the green market, with new performers each week.
"There's also going to be more prepared food, so people can come and have breakfast," Robinson said.
Robinson said the turnout at the market has been great, but he still seeks to spread the word for those who don't already know about it.
"Our turnout is great," he said. "But all we ever hear about is that people didn't know there was a green market."
Robinson thanked the Village of Wellington for supporting the green market. "They've really stepped up to the plate," he said.
The village will host a ribbon-cutting ceremony at 10 a.m. on opening day.
Robinson encouraged the community to come out and support their local agricultural community.
"It's local, and it's fresh," he said. "We have to shop small these days. We have to support our local farming community, or we're going to lose them."
For more information, visit www.wellingtongreenmarket.com.