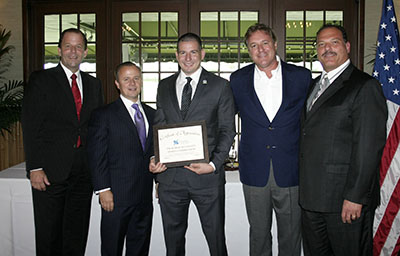 The Central Palm Beach County Chamber of Commerce celebrated the coming equestrian season with speakers from the International Polo Club Palm Beach and the Winter Equestrian Festival at a luncheon Monday hosted at IPC.
Guest speakers included Mark Bellissimo, managing partner of Wellington Equestrian Partners, which owns and manages the Palm Beach International Equestrian Center, and John Wash, president of club operations at IPC.
Bellissimo said that the FTI Consulting Winter Equestrian Festival, the largest and longest-running horse show in the world, attracts almost 6,000 horses from all 50 states and 33 countries, awarding almost $7 million in prize money.
Bellissimo noted that Wellington is home to three distinct segments or the horse sport world: hunter/jumpers, dressage and polo. "We have been able to distinguish Palm Beach County within the world of horse sport," he said.
PBIEC hosts the Winter Equestrian Festival, as well as 42 weeks of show events. While the 12 weeks of WEF are the most famous, other times of the year are growing. He said attendance in early season events is up significantly.
"One of the shows last week was up 50 percent from prior years," Bellissimo said. "We've seen tremendous growth in the November, December time frame to really support a strong January, February and March time frame."
Bellissimo noted that the economic impact of just WEF is about $200 million. About 47,000 hotel room nights were sold and about 50,000 nights in condo rentals, he said.
"What we've tried to do is really take that horse show and turn it into an industry, and we've been growing at about 18 percent each year," he said. "We're seeing record participation from all over the world. And you will see continued strong growth this year."
As part of that effort, they have also tried to transform what was considered a boutique or lifestyle sporting event into something the general public can relate to.
"We've spent a tremendous amount of resources over the last several years to try to engage the community," Bellissimo said. "What we've done to really build the population base is work with the local schools, so each week we take a local school and introduce them to the venue and have their kids perform the national anthem and have them perform various activities, which has been very significant in the growth of our attendance."
Bellissimo and his daughter also created the Great Charity Challenge. "We started this event four years ago with the goal of trying to share and energize and harness the energy of the equestrian community back to Palm Beach County," he said.
The event allows for any nonprofit organization registered in Palm Beach County to apply at www.equestriansport.com. "This is going on right now, so if you know of a charity that hasn't applied, they should do that now," he said. "Essentially, we will pick randomly from that group, which typically is about 300 entries. We will pick 34 randomly selected charities and have a show jumping competition."
Last year, the event raised $1.5 million to be awarded to the selected charities. "We assign them to 34 different teams and have show jumping competition at night where the winning charity will win $150,000, the second one $120,000 and down the line," he said. "Every charity wins, and 100 percent of the money gets distributed. This year, we're targeting $1.75 million. We have some great families and corporate sponsors who have jumped on board."
The event has raised $4.2 million over the past four years and helped 70 different charities.
IPC, meanwhile, is central to another major horse sport — polo. The award-winning club attracts the most elite players in the world. Just over the past year, it has received the President's Award from the Palm Beach County Sports Commission and the coveted Providencia Award from the Palm Beach County Convention & Visitors Bureau.
Wash said he was pleased that IPC had been able to host the chamber luncheon. "IPC's vision was to establish a world-class facility that would attract the highest level of polo competition, and I can tell you that the past 10 years have been an exciting journey," he said. "I'm pleased to say that I know we are achieving that mission. The International Polo Club represents the best of everything in polo, and we're glad to be able to have that here in Wellington."
Spectators hail from more than 20 countries and 49 states, exceeding probably more than 150,000 polo spectators annually.
"We celebrated our 10th anniversary season in 2013, and for the first time, the U.S. Open Polo Championship, this past year presented by Maserati, was aired on NBC Sports, and this year, in conjunction with the United States Polo Association, they're going to air three tournaments on NBC Sports."
Wash said that when he moved to Wellington seven years ago to head up IPC, he believed in the potential of the club.
"We've accomplished so much in a short period of time, and we really appreciate the support we have gotten from the western communities," he said. "'You've caught the excitement of this demanding and colorful sport, and you embraced it, your businesses supported us with sponsorships and ticket sales, and you've championed us during troubled times. No one achieves success alone, and we all are grateful that you were with us every step of the way."
Wash said that IPC has become a cornerstone of the western communities. "We believe in giving back to the community where we work, where we raise our family and build our businesses," he said, adding that his executive team and staff will participate at every level, including coaching, volunteering and sponsoring community events. "We are here for you, just as you have been here for us. Our goal is to be the best community partner possible, while continuing to be the epicenter of the polo world."
IPC will continue to attract the world's best polo players and expand the appeal of Palm Beach County beyond beaches, golf courses and music festivals, he said.
He added that Argentine polo star Nacho Figueras will be back for the coming season, which starts Jan. 5.
"Nacho will be fielding a new team this year, and right now team sign-ups are going very strong," Wash said. "I don't know how we will break some of the records that we set last year, but because of the support that we continue to receive, things continue to look up."
For more about IPC, visit www.internationalpoloclub.com.
ABOVE: International Polo Club Palm Beach President John Wash, Central Palm Beach County Chamber Chairman Frank Gonzalez, Palm Beach County Sports Commission Executive Director George Linley, Equestrian Sport Productions CEO Mark Bellissimo and Chamber CEO Wayne Burns.