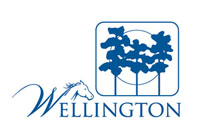 Concerned about opening up parts of Wellington's Equestrian Preserve for overdevelopment, Wellington's Planning, Zoning & Adjustment Board postponed a decision Wednesday that could allow for expansion of grooms' quarters in barns.
The proposed amendment would change what Wellington considers grooms' quarters, calculate living space separately from the allowable square footage for a barn and allow for more living space.
Wellington Projects Manager Mike O'Dell told board members that equestrians want to have their grooms close by to care for their horses.
"Grooms are part of the entourage that comes to Wellington on a yearly basis," he said. "And what was once thought to be one groom for every four horses in the hunter jumper and dressage world is now maybe one groom for every three horses."
Under the amendment, the definition of a grooms' quarters would be expanded, allowing for "any person responsible for the caring of a horse within a barn or stable" to live in them. The expanded definition would allow for grooms, trainers and managers.
The changes would affect the entire Equestrian Preserve, but most of the conversation was about Saddle Trail and Paddock Park, where properties are less than five acres.
O'Dell said Wellington has considered grooms' quarters part of the overall barn structure, which is limited to 1,250 feet per acre of barn area on lots of 5 acres or less, or to 20 percent of the total lot coverage on properties of more than 5 acres.
The change would allow space for grooms' quarters in addition to the footage for barns. O'Dell noted that staff recommended allowing 500 square feet of living space per four stalls, but the Equestrian Preserve Committee had wanted more space allowed.
"They increased the grooms quarters from 500 feet to 600 feet per four stalls," he said.
Lots smaller than 5 acres were previously allowed a variance of up to 15 percent for barns. O'Dell said the change would eliminate the variance. "By eliminating the grooms' quarters from the calculated barn area, it's a 67 percent increase in barn area," he said.
PZA Board Member Marcia Radosevich worried changing the calculation of grooms' quarters in overall barn area would allow for overdevelopment.
"On a one-acre lot, we could have a residence, a 1,250-square-foot barn and, if they had 12×12 stalls, that is eight stalls," she said.
But Planning & Development Services Director Tim Stillings said that parts of the preserve with less than five-acre lots are limited to four-stall barns only.
"Then why do they need more square footage?" Radosevich asked. "Generally what we're talking about is allowing greater density of people and horses on five acres or less."
PZA Board Member Carol Coleman noted that some people might have multiple lots.
Radosevich said she was concerned that the allowable space for grooms' quarters could balloon up on properties with multiple lots and dozens of stalls. "If we calculate the number of grooms at one per every four stalls, on 5 acres, if the stalls were 12×12, that would allow 11 grooms' quarters at 600 square feet each," she said. "That's multi-family housing."
Radosevich noted that would be in addition to a home and a barn. "I think that's way too much density," she said.
Stillings noted that the four-per-acre stall limit would allow only 20 stalls on a five-acre piece of land.
But Radosevich noted that the rules would allow a 6,250-square-foot barn on that same lot. "That's huge," she said. "I don't know why they need more space."
O'Dell said that currently a three-acre piece of land would be allowed 12 stalls. "With 500 feet allowed per four stalls, that's a 1,500-square-foot grooms' quarters," he said. "That's allowed today. You could build that tomorrow."
O'Dell noted that many barn owners are adding riders' lounges, laundry rooms, larger tack rooms and other spaces to make the barns more comfortable. "The owners want to build better facilities and provide better grooms' quarters for their people," he said. "If they remove [the grooms' quarters] from the calculation, they can build more of the lounges, tack rooms and other areas."
Coleman said she believed the grooms' quarters should only be for grooms.
Stillings said it wasn't possible to control who lives in them. "We call them grooms' quarters, but it's not possible to legislate who goes in them," he said. "We have a definition for caring for the horse, not who is or isn't a groom."
Radosevich was also concerned that residents could rent out the grooms' quarters to people who aren't necessarily caring for horses. "Say I get rid of my horses and I have a couple of grooms' apartments, could I just rent them out to people?" she asked. "The truth is, the way this is written, I could have my aunt living out there."
Stillings said the way to regulate it would be through fire codes, which are different for private residences that aren't being rented out.
"That is one of the ways we can track it," he said. "That or through code compliance."
During public comment, attorney Jeff Kurtz said his client, a family living in Saddle Trail, was concerned about removing the variance to allow for extra space.
"For those 22 people [who have received a variance], it could make those properties nonconforming," he said.
His client was also concerned that properties outside of Saddle Trail and Paddock Park of less than five acres would not have the same restrictions of four stalls per acre.
"There's this rule that applies only in Saddle Trail and Paddock Park that limits the number of stalls per acre," he said, "even though you have similarly configured lots throughout the village."
Kurtz questioned whether it was an appropriate standard to have, and if so, why it wasn't in affect in all of the preserve. "My clients believe they are discriminated against because it's not the same standard as right across the street," he said. "It makes those properties arguably more valuable."
PZA Board Member Elizabeth Mariaca said she had been approached by a member of the Equestrian Preserve Committee who requested that the item go back before the committee. "She implied to me that the matter was going back before them," she said.
Village Attorney Laurie Cohen said that wasn't necessarily the case. "[Village Manager] Paul Schofield had a conversation with that individual," she said. "He never committed to bringing this back before the committee."
Several board members said they felt the issue was too complex to vote on that night. PZA Board Member Paul Adams suggested sending it back to the Equestrian Preserve Committee for refining.
But other board members suggested holding a workshop on the matter and inviting Equestrian Preserve Committee members to be involved.
Adams agreed and made a motion to table the item and hold a workshop instead. The motion passed unanimously.