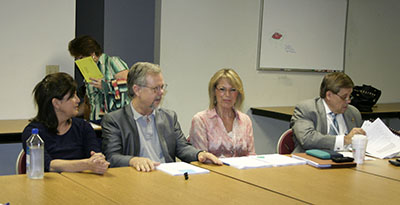 Representatives from Underwood Management Services Group, the contracted management company for the Town of Loxahatchee Groves, gave a presentation last week to the Loxahatchee Groves Landowners' Association on the town's progress and evolution since its incorporation in 2006.
Guest speakers at the Nov. 21 meeting included Bill and Perla Underwood, co-owners of the company, Town Manager Mark Kutney and Town Clerk Sue Eichhorn.
Kutney said the focus of the evening would be on the town's limited form government, known as "government lite," and its effect on continuity; cost-effective minimal government, including code enforcement, roadway networks, planning and development and the control of future development; and the town's future.
"What does the town want to be when it grows up?" Kutney asked. "For those of you who have been around a while, you can tell some of that came from the Strategic Vision Plan. I'm kind of using that as the basis for our presentation tonight."
Bill Underwood gave an overview and perspective of his company's experience with the town.
"This is the beginning of our third year here in Loxahatchee Groves, and it has been a wonderful experience," Underwood said. "I understand that there was thought somewhere along the way that we had a learning curve, but I think what we've determined is that what you have and what the town has hired has been an experienced group of professionals that really had no learning curve."
He said the learning curve lies more with the town council and the people who associate with it. "That is a perception that I had," Underwood said. "I think that there are a lot of good people in Loxahatchee Groves. I'm not too sure that everybody is on the same page."
Looking at the town's original Strategic Plan, Underwood said he saw some things that don't seem workable.
"Entities, things, organisms do one of two things — they either live or die," he said. "Towns, cities, villages are living organisms. They either live or they die, and that living or dying is entirely up to you, the council and the rest of the residents. Moving forward, the town can make many strides of progress."
Underwood said one thing the management company has tried to bring in the community is provide a level hand and fair shake for everyone.
"We don't treat anyone differently than we treat anybody else," Underwood said. "My perception is that had not been the case in the Town of Loxahatchee Groves. Some people have preferential treatment over others. It's not fair, not right and in my book, not the way I have treated people."
In his 35 years in municipal government, Underwood said he has found it did not matter whether he treated people like kings or beggars as long as he treated them all the same. "We will do that until September 2014," he said, referring to when the company's contract is up for renewal.
Underwood stressed that change happens and must be directed, not ignored.
"It's not like you are going to be able to stay exactly like you are, because you're either going to live, or you're going to die, or you're going to get run over," he said. "I would love to tell you to stay as you are, but you cannot. I've been in a community that tried to stay as it was, and now it's half the size that it was and it provides less than half the services."
Kutney noted that continuity has been a significant problem in Loxahatchee Groves. "In the seven years that you have had an elected government, you have had three different management companies," he said. "If you were talking about cities that were hiring a city manager and that city went through three managers in seven years, the chances are that next recruitment probably wouldn't have too many decent candidates."
The second thing that has plagued the management companies is that the town has indicated that the management company is responsible for its own governmental accounting software.
"The town, I think, should have bitten the bullet and got its own software, because every time you've changed a management company, the management company had to go through the problem of trying to reconcile everything with the last management company's software," Kutney said. "It was a nightmare for us. Those things add up to a problem in continuity. It doesn't allow your town to move forward as fast as it should. It probably takes you backward."
Another big issue, and probably the biggest issue, has been limited government, or "government lite."
"I can tell you there is no such thing," Kutney said. "You can't go halfway, you're either in, or you're out of it. For those of you who are regular attendees, you've probably heard me advise the council at least a dozen times that this town can't be a limited government. It has got to do the same things that the City of Fort Lauderdale or the City of Tampa has to do, with very minor exceptions. You just can't go halfway with it. You've got to go all the way, and that's going to require some things that I know the council is very uncomfortable with."
Many of the town's vendors, such as code enforcement, are there on a part-time basis, he noted. "We're on a very tight budget with code enforcement, and they're limited by virtue of time and cost, and it's very hard to do code enforcement on a part-time basis," Kutney said.
He also pointed out that the town office is officially open 35 hours a week, which is rare for municipalities. Most are usually open at least 40 hours. "I will tell you that we have never lived by that example," Kutney said, pointing out that the office is open 50 or 60 hours a week with staff trying to attend to their responsibilities to keep the town's government functioning.
He also pointed out that the town has no permanent facility, with a thin-walled office located in Loxahatchee Groves Plaza between a U-Haul rental establishment and a hydroponic supply company. The town rents the Loxahatchee Groves Water Control District's meeting room for its public meetings.
He also pointed out that the management company services four advisory boards, the intergovernmental coordinating committee and a special magistrate through code enforcement.
"It requires a heavy commitment of staff time, my time, the town clerk's time, because every week we're working to bust our butts and get two agendas out, and sometimes that dominates the workload instead of getting to some of the projects that you might hear me say at a meeting we haven't been able to get to," he said.
Kutney said a comparable government with a similar budget would have 15 people and more than a $1 million operating budget. "That's three times what we have," he said.
Attempting to do work in a limited way can actually make more work, Kutney said, adding that next year, the clerk will be moving to "action minutes" rather than more detailed transcripts.
Meanwhile, not having a permanent facility has limited the town's ability to initiate such things as streaming video because they are not able to permanently mount cameras. "That way you could see meetings in real time," Kutney said. "You can't do it because the district wouldn't allow us to put a permanent camera up because it's not our building."
ABOVE: Town staff members at the LGLA meeting.