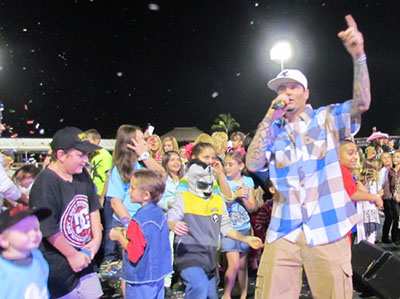 Winterfest 2013, the free, family holiday event, returns Saturday, Nov. 30 to the Palm Beach International Equestrian Center in Wellington, offering a wonderland of holiday fun for the community to enjoy.
In its fourth year, the event is expected to draw more than 5,000 people to enjoy snow, bounce houses, food and performances from both local talent and celebrity performers Vanilla Ice and The Voice's Michaela Paige.
"This year is going to be great," Event Chairman Dr. Randy Laurich said. "It's exciting to be a part of something that has grown so much. I'm glad to be able to chair it. Last year, we were close to capacity, and I expect this year will be even bigger."
The event kicks off at 6 p.m. at the show grounds off Pierson Road, and runs until 10 p.m., with plenty for families to enjoy. The event is free and open to the public.
Winterfest has been a hit in the community since it premiered four years ago as an extension of the Wellington Chamber of Commerce's annual tree lighting ceremony. In its first year, more than 4,000 people flocked to the Wellington Amphitheater. Because of the overwhelming response from the community, the event moved to the larger venue last year.
"It's such a neat community event," Laurich said. "Even though it falls on the weekend after Thanksgiving, it's really a great time for it. It gives it such a family atmosphere, and you can bring your whole family, including your out-of-town guests, for an exciting and fun night."
Children can enjoy their own area with bounce houses, carriage rides, reindeer and more. There will also be a business expo, vendors, a show jumping competition and other activities.
"We're going to have a salute to the troops, which we have done in the past, but this year will be bigger with more troops involved, and a skydiver as well," Laurich said. "We'll have triple the snow this year for our winter wonderland."
There is also the popular Food & Wine Festival, offering some of the area's best bites. Tickets, available at the door, cost $15 for a single person and $25 per couple.
"Myself and [fellow Event Chairman] Johnny Meier sponsored the Food & Wine Festival this year," Laurich said. "It's really popular, and it's a great social event. If you're single, or maybe you don't have kids and want a night out, it's a part of the event you can enjoy. Winterfest is a family oriented event, but you don't have to have kids to come out and enjoy it."
One of the highlights each year is the arrival of Santa Claus and the reading of 'Twas the Night Before Christmas to local children. And the night is topped off by a performance from celebrity Vanilla Ice, who lives in Wellington.
"I think the event got popular because of the celebrity component," Laurich said. "He [Vanilla Ice] is a local guy. When it comes down to it, he does a lot for the community, especially with Toys for Tots. It's good to have a celebrity support the event, but it's great to have someone who is an integral part of our community."
Local singer Michaela Paige, who rose to fame when she joined country singer Blake Shelton's team on the hit television show The Voice, will also perform.
"I think that will be great," Laurich said. "It's something new and different from our performers in the past."
Laurich thanked everyone involved, especially Wellington Chamber Executive Director Michela Perillo-Green.
"She is amazing when it comes to producing an event," Laurich said. "She is amazing at keeping everyone together."
For more information, visit www.wellingtonchamber.com/winterfest-2013.
ABOVE: Musician and TV star Vanilla Ice performs at last year's Winterfest.