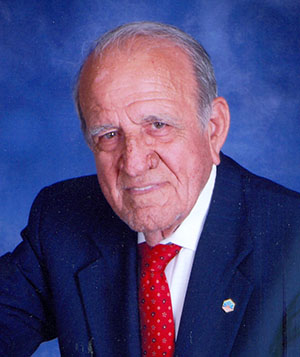 Mayor Matty Mattioli announced Monday that he has filed papers to set up a campaign account in preparation to seek a third term as mayor of Royal Palm Beach.
Mattioli was first elected to the council in 1994. He was elected mayor in 2010 and re-elected in 2012.
Candidates have until mid-February to qualify for the ballot in Royal Palm Beach's March 11 municipal election.
The only person to challenge Mattioli thus far is Felicia Matula, an alternate on the Royal Palm Beach Planning & Zoning Commission. Matula previously challenged Mattioli in 2012, taking 40 percent of the vote.
Also up for re-election in March are Vice Mayor Jeff Hmara, who holds Seat 1, and Councilman Richard Valuntas, who holds Seat 3. Neither have drawn challengers as of yet.
Mattioli told the Town-Crier that he is organizing his supporters for fundraising and the election campaign.
"We can't do advertising, signs and stuff until 30 days before the vote," Mattioli said, noting that the formal qualifying period does not even open until late January. "I just figured I'd do it now and get my troops lined up and ready when it's time to go."
Mattioli said he decided to run again because he wants to see some projects started while he has been mayor come to conclusion, including the opening of the Aldi grocery store regional distribution center and the American Tire distribution center.
"One of the platforms of my campaigns has always been a better quality of life for everybody in Royal Palm Beach, young and old," Mattioli said. "Financing has been a problem to the working family, and I vowed that I would do everything I could as an elected official to not raise the tax rate. I think I have succeeded in doing that."
Mattioli said that the village's tight budget, coupled with its contingency fund from the sale of its water utility, will enable Royal Palm Beach to carry on without tax increases in the foreseeable future.
"With my manager and finance director, we figured out that even though the economy is only creeping along at about 2 percent [growth], if it continues that low, we're five years away from ever worrying about having to raise taxes," he said. "That 2 percent gave us $87,000 that we didn't have last year. We didn't have to lay off anybody; we didn't have to cut any services."
Mattioli said he had worked with Business Development Board President & CEO Kelly Smallridge for three years to persuade Aldi to locate its 821,000-square-foot regional distribution center in Royal Palm Beach. "That's about ready to blossom into operation," he said. "I'd like to see that as a finished product."
He said he also wants to be on board for the opening of the $10 million American Tire facility in an industrial area off of Southern Blvd.
"I was down there about a week ago, and the building is all done, so it's just a matter of the finishing touches of moving it in, and I want to see that done," he said. "Those two things will give the economic boost that I never dreamed would come to Royal Palm Beach. Aldi alone could produce 500 or 600 jobs. That would be an economic boost not only to Royal Palm Beach, but all the surrounding communities."
Mattioli said the added jobs in the area will be incentive for people to buy homes and get the real estate market moving again, and benefit small businesses that would support those centers.
He also wants to continue to support the completion of State Road 7 to Northlake Blvd., as well as the completion of Roebuck Road. Both planned improvements have been under attack by West Palm Beach. "Those are the main reasons that I'm going to do this, for more time, and I would feel that we have played the game and won," he said. "Twenty-three years is quite a long span."
Mattioli added that he is quite proud of the completion of the 162-acre Royal Palm Beach Commons Park, which has improved the level of service for residents far beyond what residents of other municipalities can expect.
"I've had so many good vibes, from Boca to Port St. Lucie they are coming," he said, noting that even more people will visit the park once the planned dog park, flying disc park and future amenities are completed. "I think some more things will come there, and it will be for the old and the young."
Mattioli said that good financial management and reasonable economic growth will keep Royal Palm Beach the way it is today, with a good quality of life for its residents.
"There is no financial or political gain for me to do this," he said. "We're on third base, and I want to come home, finish it and say, 'thank you.'"