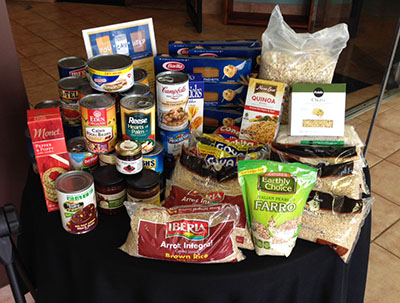 To help families in need this holiday season, the Village of Wellington has partnered with Ultima Fitness/Xtreme Tae Kwon Do and other organizations to collect food for the Hometown Holiday Food Drive.
You can do your part by donating a non-perishable food item through Monday, Nov. 18 at one of several locations throughout Wellington.
The Hometown Holiday Food Drive started about five years ago when the village identified a need among some of its residents, Community Projects Manager Scott Campbell said.
"As a village, we have never really been viewed as having people in need," he said. "Because of that, we've never really been able to get other organizations to come out here and give assistance to our residents."
But Wellington recognized that some of its residents were in need.
"We recognized there was a need in the community and wanted to get resources to those in need," he said.
This year, Ultima Fitness has joined forces with the village to reach out to local residents in need. Owner Jill Merrell said Ultima Fitness donates to charity every holiday season, but wanted to help out the local community.
"We've always helped with food drives and other charity drives around the holidays," Merrell said. "People think that because someone lives in Wellington, they must be wealthy. But that isn't the case. We're a family-owned and operated business, and this community has always supported us, so we wanted to support our own community."
And this year, Ultima is encouraging residents to make healthy choices, choosing low-fat, no-fat, low-sodium and sugar-free options when donating. "Our business is fitness," Merrell said. "We're trying to teach people to live healthy lifestyles. We thought, as long as people are donating, why not use this as an opportunity to encourage them to make healthier choices?"
Merrell said she hopes it could spark bigger change throughout the community and catch on with other organizations that give food to the needy this time of year. She said she's already spreading the word, sharing her goal with WPTV's Roxanne Stein.
"I think we should try and educate people on the choices they make in their donation, educate the recipients of the meals, and hopefully it will trickle down," Merrell said. "They can see that there are healthier options out there."
In another way of giving back, students from Xtreme Tae Kwon Do will have a kick-athon on Saturday, Nov. 16, with all proceeds going to the Village of Wellington to help pay for Thanksgiving meals and holiday toys.
"Every year for the last 12 years, our martial arts students have picked an organization and raised funds to help them," Merrell said. "The children collect pledges, and then, on Nov. 16, will try to do as many kicks as they can to raise money for charity."
There will also be a "Spare Change" fundraiser in the lobby of the fitness center, collecting funds to help.
Residents are encouraged to donate non-perishable goods, such as mashed potatoes, stuffing, gravy and canned vegetables.
"We're really excited to have Ultima Fitness on board," Campbell said. "We think it's fantastic that they are encouraging residents to make healthier choices. We want to make sure everyone has a Thanksgiving meal, so we will take non-perishable items."
Campbell said that Wellington residents contribute the bulk of the donations that go to needy families.
"Residents are one of the biggest contributors," Campbell said. "We're so fortunate to have that level of understanding from our residents that there are people out there in this community that have a need during the holidays. Our residents want to make sure everyone has a great holiday experience."
Also partnering with the village is Walgreens, which has donated food and also allowed a donation box in its location at the Wellington Marketplace; Wellington's Interfaith group, which provides monetary donations; Whole Foods Market; Publix; the Palm Beach County Sheriff's Office; and Palm Beach County Fire-Rescue.
Campbell said that in addition to the canned goods, each family will receive a gift card to Publix to purchase a turkey, ham or other protein and a dessert from Whole Foods Market.
"Not everyone may want a turkey," he said. "They may want ham or something else for their meal. The gift cards enable them to choose what will work for their family. Each family will also get a pie donated by Whole Foods. They have been fantastic in supporting our cause for several years."
Residents can also make a monetary donation if they prefer, Campbell said.
Campbell noted that many of the needy families who receive meals are asked to give back in their own way, creating crafts or cards that go to cheer up sick children in local hospitals or soldiers overseas.
"Because our residents are so generous, we ask them to give something in return," Campbell said.
Donations are being accepted at the following locations: Village Hall (12300 W. Forest Hill Blvd.), the Safe Neighborhoods Office (1100 Wellington Trace), Village Park (11700 Pierson Road), the Wellington Community Center (12150 W. Forest Hill Blvd.), Ultima Fitness (12799 W. Forest Hill Blvd.), PBSO's District 8 substation (14000 Greenbriar Blvd.) and Walgreens in the Wellington Marketplace (13849 Wellington Trace). For more information, or to donate, call (561) 791-4796.
Another way to give back is to volunteer. Campbell said volunteers are needed the week of Nov. 18 to help sort the donated goods. More volunteers will be needed to distribute meals to the families. To sign up, call Campbell at (561) 791-4105.
Merrell encouraged everyone to get involved.
"If we can give some joy to families that are having a hard time, then we've made their lives a little better," she said. "It takes a community to make a difference."
ABOVE: The collection table at Ultima Fitness in Wellington suggests healthier food drive donation ideas.