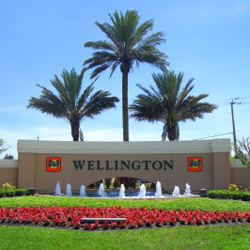 Increased police patrols and code enforcement, along with better lighting, speed bumps and encouraging landlords to screen tenants are all things that Wellington can do to help improve the quality of life in the Folkestone/Yarmouth neighborhood, residents told village officials last Saturday.
Representatives from the village met with a few dozen residents from Folkestone/Yarmouth on Nov. 2 to hear what the needs of the community were.
The meeting was called after residents spoke out and opposed a planned road closure in their community. At a meeting of the Wellington Village Council last month, council members directed staff to meet with the community and begin solving some of its problems.
"We are here to find out what we can do as your elected officials," Councilman John Greene said. "If there is something you need us to do, let us know that. I want you to know I am here listening."
The meeting was moderated by Terry Clark, a consultant hired by Wellington to provide neutral moderation.
Clark asked residents to share their concerns with issues in the neighborhood.
Among the concerns were safety, including drugs and drug paraphernalia found in the street, unmonitored juveniles causing problems, speeding and crime. Trash, upkeep of homes and general lack of code enforcement also were issues of concern.
"The purpose of today is to come up with ideas and suggestions based on a common understanding of what the issues are," Clark said.
Resident Johanna Jurado said that unsupervised teens and children have become a problem in the last several years. "Some of them can be very antagonizing, to where I don't feel safe running anymore," she said.
Residents said a proliferation of trash — some of which includes needles and other drug paraphernalia — gives the neighborhood a "run-down" appearance.
One of the largest requests from residents was an increase in police presence and communication.
"The number one thing we need is what we have in this room right now," PBSO Sgt. Roy DeMarco said. "We need cooperation from residents in the community and cooperation from the landlords. This is the first step in taking back your community."
DeMarco noted he was one of the original community policing deputies when Wellington started the Safe Neighborhoods program.
"The Village of Wellington, the council and the Safe Neighborhoods [office] are working hard for your community," he said. "The village is willing to help us do what we need to do."
DeMarco said residents could expect a lot of changes in the neighborhood, from increased patrols to unmarked cars.
"All of the issues you have raised are important issues," he said. "Some of them can be taken care of, but some of them can't. What we can help you with is increasing patrols in your neighborhood and quality of life issues."
He noted that for residents living in the neighborhood, quality of life is paramount. "For you, your perception is your reality," DeMarco said. "When you see people sitting outside and you feel intimidated, you might think they're selling drugs. It affects you."
But, he noted, the PBSO has to follow protocol when approaching issues in the community.
"We can't break the law," he said. "We have to follow the rules. We are identifying the problems in your neighborhood, and we're going to take care of them. Our community policing unit and our street team unit are going to work as one. The village just added a new detective… to work on the problems, which will hopefully lead to more arrests."
DeMarco asked residents to reach out not only to the community policing deputies but also to him with any problems.
"Once the community policing deputies can identify the problems in your neighborhood and who it is that is causing the problems, then our street team will step in and take care of the problem the best we can," he said. "We're going to have more unmarked and marked units in the neighborhood. I think over the next few months, we're going to help take care of the problems. I think you'll see a difference."
DeMarco said he wanted to meet with residents along with his community policing deputies to discuss in depth some of the crime issues and other issues that can be addressed by the PBSO. "We're in this together," he said.
Residents also asked for additional meetings to tackle individual issues, among them the proposed road closure. Officials said they would come up with meeting dates and contact residents.