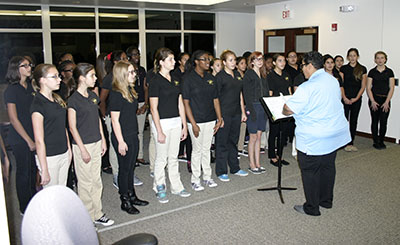 Crestwood Middle School Principal Stephanie Nance brought the school's chorus to demonstrate some of her students' skills during a presentation to the Royal Palm Beach Education Advisory Board on Monday.
Nance said Crestwood has many unique strengths, as well as challenges for the year ahead. "As an Eagle family, we embrace all of them because we know at the core of our mission, at the core of our vision, is our students," she said.
The school follows a single-culture model, which is in alignment with the single-district model for academics, behavior and climate. Numerous initiatives at the school include the addition of virtual learning.
"Last year, we started with our seventh-grade online keyboarding class, and this year we opened up a new virtual lab for our eighth-grade students," Nance said, adding that the school also has eighth-grade students enrolled in high school courses.
"I'm sending you quite a few eighth-graders with high school courses already under their belts," she said to Royal Palm Beach High School Principal Jesus Armas, who attended the meeting. "They're going to be ready to become Wildcats. We know that learning is growing and growing is achieving — and that is what we are about."
Along with the virtual learning program, the school is continuing with academic initiatives that focus on reading, writing, mathematics and science.
"We have a lot of professional learning communities going on at Crestwood Middle School," Nance said. "We know that in order for our students to achieve, we must also set the same standard for ourselves as educators."
In other business, Vice Mayor Jeff Hmara, council liaison to the board, announced that at the direction of the board, a presentation on Common Core standards by a school district official has been arranged for Wednesday, Nov. 20 at 6 p.m. at Royal Palm Beach High School in cooperation with Armas and School Board Member Marcia Andrews.
"The idea is to present an information forum so that all the residents, all who are interested in the subject of Common Core standards can hear from some of the individuals who are going to be held accountable and responsible for making it happen here in Palm Beach County," Hmara said.
A question-and-answer period will follow the presentation.
ABOVE: The Crestwood Middle School chorus under the direction of Veronica Johnson.