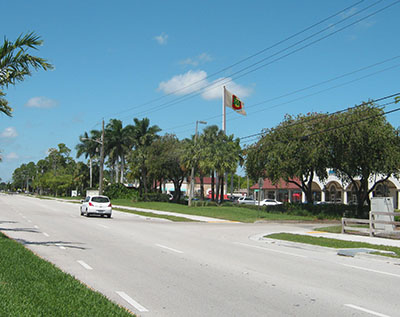 The decision to allow a 120-foot cell tower in the Wellington Marketplace shopping plaza split the Wellington Village Council on Tuesday.
Despite concerns that led Wellington staff to recommend denial of the project, council members approved it 3-2 with councilmen John Greene and Matt Willhite opposed.
"I don't agree this is the right location for it," Willhite said.
But the council majority thought it was necessary to give much-needed cell service to residents in Wellington's core.
"To me, it's undisputed that there's a problem with coverage," Vice Mayor Howard Coates said. "We all recognize there's a problem that needs to be addressed."
The Wellington Marketplace is located at the corner of Greenview Shores Blvd. and Wellington Trace. The cell tower would be built as a flagpole and located in the parking lot behind Park Avenue BBQ.
Staff asked Clearview Tower Co., which proposed the tower, not to fly a flag on the pole to minimize its appearance.
But Wellington's staff added that there are other things that could be done by carriers like AT&T and Verizon Wireless — who plan to use the tower — to help residents' cell service.
"They have not demonstrated why an alternative antenna system could not suffice for their purposes," said David Snavely, a metrical engineer hired to consult with staff.
Other things the carriers could do would be to give homes electrical boxes that connect to the Internet and boost the signal.
"But not every resident necessarily has Internet access," Councilwoman Anne Gerwig pointed out. "For some of them, their cell phone is their only way to access the Internet."
Coates asked whether those methods would come at the expense of residents. Snavely said most carriers charge for the boxes, but they don't have to.
"I actually have one of these," Snavely said. "AT&T told me that because of the known issues in my area, they would rebate the $200 cost."
But Snavely said AT&T told him the rebate program is no longer offered. "In that case, the cost would be covered by the homeowner," he said.
Staff also suggested other sites for the tower, but Charles Bernardo, director of site acquisition for Clearview, said there were not many options.
"Your code requires a minimum of 10 acres to put in a tower," he said. "There are only three sites where that is possible."
He noted that the other sites included a middle school — where putting a tower is prohibited by Wellington code — the nearby Publix shopping center or a piece of South Florida Water Management District property that would not provide enough coverage, leaving residents with the same problem.
Clearview Tower also launched a public outreach campaign to get feedback from the community online and in person. Bernardo said the response was overwhelmingly positive.
"In the past two months, we reached about 26,000 people in and around this zip code," he said. "No responses of objection were received but from one resident."
That resident, he said, lived outside the setback for the tower. More than 300 people signed a petition in support of the tower.
Coates said he would support the tower.
Greene also favored the tower, but not in its proposed configuration.
"We have ordinances, and they are designed to protect the landscape of our community, but we also have to be realistic about the changing needs of our society," he said. "This has become an integral part of our infrastructure. As technology increases and our demand for technology increases, we're going to be forced to make some decisions as to what is the tradeoff."
He was not in favor of the tower being 120 feet tall.
"I don't think there is anyone who disagrees that there is a tremendous need for this coverage in Wellington," Greene said. "We're going to have to figure out a way to meet the growing demands of our citizens and balance that against what we envision this community to look like."
Gerwig said it was an issue she believed all the council members were having.
"I think we're all struggling with the same thing," she said. "We're struggling with the safety issue, with the convenience issue and the aesthetics. No one really wants this tower, but we want the service, and it's an issue of safety for our residents."
Coates made a motion to approve the tower at 120 feet, which passed 3-2 with Willhite and Greene opposed.
ABOVE: A rendering of the Wellington Marketplace with the planned tower.