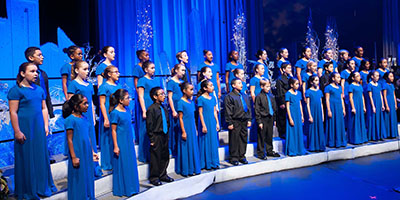 The Young Singers of the Palm Beaches, an award-winning choir with an international reputation, will present its annual holiday concert Winter Tapestry 2013 on Saturday, Nov. 23 at 7 p.m. The concert will be held in Dreyfoos Hall at the Kravis Center for the Performing Arts and will feature more than 350 singing students, along with Divinity Dance, a local Christian dance company.
"This is the perfect way for families to start celebrating the holiday season in song," said Beth Clark, executive director of the Young Singers of the Palm Beaches. "Young Singers will once again delight audiences of all ages with beautiful music, laughter and even a holiday sing-along."
Tickets for Winter Tapestry 2013 start at $10 and can be purchased by calling the Kravis Center box office at (561) 832-SHOW or online at www.kravis.org.
The holiday concert is sponsored by PNC Bank.
The Young Singers is comprised of more than 350 singers in grades 3 through 12 from all parts of Palm Beach County. They have performed regionally, nationally and internationally for the past 10 years. For more info., call (561) 659-2332 or visit www.yspb.org.
ABOVE: The Young Singers of the Palm Beaches in concert.