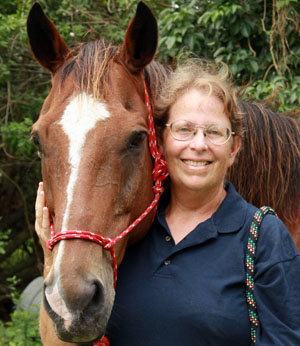 TAILS FROM THE TRAILS
Saturday, Nov. 30, had been a rainout: overcast the entire day, bands of heavy showers moving through. And then, wonderfully, as evening fell, the skies cleared and the rain ceased, just in time for a show jumping competition featuring a number of top riders. But this was more than just an outstanding class. It was the kickoff for this year's FTI Consulting Great Charity Challenge.
Each year, for the past four years, local charities have been invited to participate in the competition. A number of lucky charities are drawn and then paired with a horse-and-rider competitor. Depending on how well their rider does in a competition to be held Feb. 1, the charity wins more or less money. Each chosen charity gets at least $10,000, but the top three get $150,000, $125,000 and $100,000 respectively.
Representatives from more than 300 charities stood in line at the Palm Beach International Equestrian Center to sign in at the registration booth between 4:15 and 5 p.m.
There were three different drawings of eight charities each. The first was before the class started, the second halfway through during the break to drag the arena, and the last just before the jump-off.
The sign-in line was long, snaking back, as excited charity representatives chatting with each other, sharing their hopes and dreams.
Maryann Roman was there for the Mental Health Association of Palm Beach County. "This is our second time trying," she said. "Hopefully, we'll be lucky this year."
Carmen Garcia was there for the Revival Community Outreach Ministry in Riviera Beach. "This is our first time," she said. "We're a small ministry. We help feed, clothe and educate people. If we win, we'll put the money back into the center to buy food for our clients. We also need 10 computers. I pray we win."
Michele Kurucz was there for the Friends of the Gumbo Limbo Center in Boca Raton. "We do sea turtle rehab," she explained. "This is our second time trying. If we win, we'd use the money to keep our property open longer hours, from dawn to dusk, so more people could visit and relax, decompress from the stress of their daily lives."
Horses Healing Hearts was represented by President Liz Olszewski and volunteer Kathleen Hayden. "This is our third year," Olszewski said. "Last year we were chosen, and we won $25,000. We spent it on lessons for kids, helmets and supplies. We still have some left."
Bobbi Sprano and Josie Pinero waited in line for Greyhound Pets of America. It was their second time trying. "We take these wonderful dogs, after they finish on the racetrack, and place them as pets in homes," Pinero said. "They make wonderful pets. We'd use the money to enlarge our kennels so we could help more dogs."
Doreen Robinson of the Community Caring Center of Greater Boynton Beach also had dreams of winning. "We'd buy a second truck to increase our food deliveries to shut-ins, seniors and children," she said.
Lynn Coakley of the Equus Foundation said they'd tried each of the five years but hadn't won so far. "We help raise money for other charities who do equine therapy or rescue horses," she said. "We'd be very happy to win."
The line moved up swiftly as representatives signed in and found seats in the stadium: Meals on Wheels, the Wellington High School Lacrosse Team, Kid's Needs Foundation, Gulfstream Transition to Life Academy and hundreds more. By 5:20 p.m., everyone had registered and a cool breeze chilled the air.
Equestrian Sport Productions CEO Mark Bellissimo and other dignitaries took turns pulling out the first eight charities. There were cheers and applause for the winners, and fierce hope from the rest: They still had a chance.
The class began. It was a challenging course for the 42 riders. The Grand Prix competition was one of the qualifying classes for the World Cup finals, which will take place next April in France. The first clean round was accomplished by the 16th rider, and only two more went clean.
Eight more charities were chosen during the 6:30 p.m. break. More cheers and elation, but dwindling hope for those last eight slots.
The class ended, and while the course was reconfigured for the jump-off, the last lucky eight were chosen. The winners went back to the booth to collect their information packets.
"We're thrilled, so excited," said Carrie Williams of Urban Youth Impact. "We love, equip and empower inner-city youth for God's given purpose."
And there was my friend, Maurette Hanson, whose Healing Horse Therapy Center had just been chosen one of the lucky 24.
"We got picked!" Maurette exclaimed. "I couldn't be more grateful. It's my very first time trying. This is validation for what we do."
Ten more charities will be chosen and announced at the Trump Invitational set for Jan. 5.
Those chosen so far are: Big Dog Ranch, Blooming with Autism, Boca Raton's Promise/Alliance for Youth, the Boys & Girls Clubs of Palm Beach County, Children Healing Institute, the Children's Foundation Equine Assisted Therapy, Danny and Ron's Rescue, the Equestrian Aid Foundation, the Farmworker Coordinating Council of Palm Beach County, the Foster and Adoptive Parent Association of Palm Beach County, Healing Horse Therapy Center, New Urban Community Development Corp., the Pediatric Oncology Support System (POST), the Polo Players Support Group, Restoration Bridge International, Seagull Industries for the Disabled, Speak Up for Kids, the Spirit of Giving Network, Arc of the Glades, the Unicorn Children's Foundation, Urban Youth Impact, Wellington Cares, Women's Circle and Wounded Warriors.
The class ended with no rider going clear in the jump-off. The top three in the $50,000 Holiday & Horses Grand Prix CSI-W were Charlie Jacobs on Flaming Star, Tim Gredley aboard Unex Chamberlain and Jessica Springsteen on Vindicat W.
But the real winners were sitting in the stands.
Learn more by visiting www.ftigreatcharitychallenge.com.