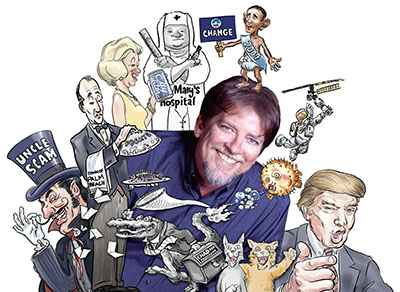 The Wellington Art Society will meet Wednesday, Dec. 11 at the Wellington Community Center (12165 W. Forest Hill Blvd.) beginning at 6:30 p.m.
The December meeting will be a fun-filled holiday event with members and guests bringing a dish to share for a potluck meal. There will also be a raffle with proceeds going to the Wellington Art Society Scholarship Fund. Guests are welcome for a $5 fee.
The presentation by well-known Palm Beach cartoonist David Willson will begin at 7:30 p.m. Willson was the right person in the right place at the right time when the Palm Beach Daily News was looking for a freelance editorial cartoonist early in 1992. He comes from Palm Beach pioneer stock. Since 1875, successive generations of his family have played key roles in shaping the area.
After more than two decades, Willson continues to create an editorial cartoon for the Sunday edition of the Palm Beach Daily News. Although the subject matter of the cartoons focuses on local events, Willson often sees things in a broader cultural and historical context, with ever a nod toward human foibles.
"I originally viewed doing the 'Shiny Sheet' editorial cartoons as a fun and interesting freelance job," Willson said. "But looking back on the body of work now, I see that it is an eye-opening collection which reveals societal and cultural changes during the last 20 years and a great deal about life in the Palm Beaches."
His book, Billionaires & Butterfly Ballots: A 20-Year Palm Beach 'Cartoonspective,' was released in November 2012. It will be available for purchase at the meeting.
As always, the evening is for artists and art lovers to hear about all of the exciting Wellington Art Society projects and initiatives.
The Wellington Art Society has ongoing art exhibitions at the Wellington Municipal Complex gallery. These exhibitions rotate every few months and are juried shows. Most of the work is for sale, and it is a great opportunity to see and buy fabulous local art.
The Wellington Art Society is a charitable organization. Its mission is to educate and encourage originality and productivity among its members and area youth through programs designed to further the advancement of cultural endeavors.
For more information, visit www.wellingtonartsociety.org.
ABOVE: Cartoonist David Willson with some of his creations.