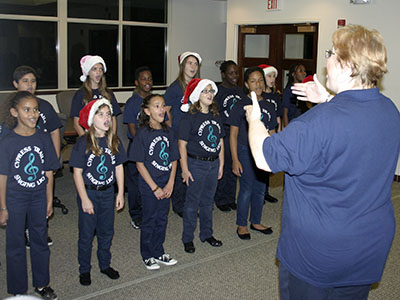 Cypress Trails Elementary School Principal Tameka Robinson and her instructional support team attended the Royal Palm Beach Education Advisory Board meeting Monday and explained how they coordinate efforts with teachers to help students who are not performing at grade level.
Educators joining Robinson for the presentation were Stacey Ryerson, Carmen Morgan, Keisha Blackwood and Theresa Ventriglio.
"These individuals play a very integral part assisting our teachers and students during the instructional day," Robinson said. "I just wanted to highlight the things they do to support us through an instructional day, [including] planning instructional strategies for the teacher and the parent so that we can meet the needs of some of those students who are having difficulties."
Supplemental Academic Instruction (SAI) teacher Theresa Ventriglio, who also sits on the Wellington Education Advisory Board, said SAI is targeted toward students in grades 2 through 4 who are reading below grade level. "We pull students into my classroom and provide them with explicit instructions to help build up their reading capacity," she explained.
Ventriglio works with three to four students at a time outside of what is called the "90-minute reading block," she said, noting that the state mandates that students receive 90 minutes of uninterrupted reading time.
"What SAI does is it works outside of that 90-minute block and it provides additional support for those students primarily in grades 2 through 4 who are reading below grade level," she said. "I work very closely with the homeroom teachers. Between the two of us, we can provide the best instruction for students who need that little bit of extra help."
Ventriglio provides research-based instruction that is delivered explicitly, systematically and totally needs-based.
"What that means is we try to have ongoing data analysis and ways to best meet the needs of our students," she said. "The focus of the instruction is in fluency, comprehension, vocabulary, phonics, phonemic awareness and oral language. Those are the components of reading, so we work on all those components to try to make our students more proficient."
Board Member Renata Espinoza asked whether the program is after school or during regular school hours, and Ventriglio said it is done during the day, for about 30 to 45 minutes daily.
"We squeeze that into the very busy day that our students have," Ventriglio said. "They have that 90-minute reading block, and then they have me on top of that."
She said staff helps students make up for the loss of other subjects but that they do not miss core courses, including math, science or writing.
"The teacher and I work closely together to make sure all the child is missing comes back to that child by the end of the day, so they really don't miss any instruction," Ventriglio said.
The instruction uses "Level of Literacy Intervention," known as LLI, a systematic progression of word work used in small groups to help students improve their reading.
"We figure out where the students are, we group them accordingly, and then LLI is the system that we use to move them forward to improve their reading," Ventriglio said, explaining that every school in the district received an LLI kit. "That's a really good thing that the district saw the value and took the initiative to purchase for all the schools in the district."
Royal Palm Beach Vice Mayor Jeff Hmara said he appreciated the school's targeting of reading skills at that grade level, due to recognition that students who are below reading proficiency at third grade seldom catch up.
"I think we know how important reading is," Hmara said. "We hear over and over again about the slippery slope once kids get past third grade in particular and find themselves not reading at grade level. This seems like exactly the right thing to be doing."
Ventriglio said the goal is to target students as early as possible.
"It used to be at grade 4, but now the district has dropped it down to grade 2," she said, explaining that assessments are in place as early as kindergarten and first grade. "We have standards that a child has to meet at every grade level."
When a child is not meeting that standard, the child's teacher would call Ventriglio to get her involved.
ABOVE: Cypress Trails Elementary School's Singing Lions Chorus, under the direction of Aggie Austin-Guyer, perform at the meeting.