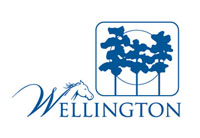 To help make sure Wellington children have a bright holiday, several local restaurants will be donating a portion of their proceeds on Wednesday, Dec. 11 to the Hometown Holiday Toy Drive as part of the second annual "Wellington is Keeping it Local" event.
"We're trying to take care of those Wellington residents who are in need," said the event's organizer, Palm Beach County Sheriff's Office Deputy Scott Poritz. "Several restaurants in the Courtyard Shops plaza will be donating a portion of their proceeds that day to help us buy toys for children in need."
Residents can do their part to help by dining at one of the several participating restaurants in the Courtyard Shops (13860 Wellington Trace), or by bringing a new, unwrapped toy to one of the drop-off locations.
Participating restaurants are Kontiki Wine & Raw Bar, Lindburgers, TCBY and Tijuana Flats. Each restaurant will donate a portion of its proceeds — ranging from 10 to 15 percent — to help the PBSO and the Village of Wellington purchase toys for local children.
Also in the Courtyard Shops, Van Dell Jewelers is a drop-off location for toys, while Sam Jon's Salon made a donation to the toy drive.
"All people have to do is go out and eat a nice meal — lunch or dinner — at any of the participating restaurants, and a percentage of their sales will go to buy toys for local children for the holidays," Poritz said. "The more you eat, the more we raise."
The event puts an emphasis on helping local families and local businesses by going out to dine for a good cause. The event's motto is, "We're being vocal about keeping it local, so please give us a hand in raising a grand."
Poritz noted that although there are many toy drives during the holiday season, most donations go outside Wellington.
"There are many great organizations that collect toys, but Wellington isn't eligible to receive them," he said. "All of the money we raise will buy toys that will stay in this community."
The event was such a success last year that Poritz said he was asked to bring it back. With the help of the community, Wellington was able to provide hundreds of toys to kids in need.
"Last year, we were able to help kids at the Boys & Girls Club, the Kids Cancer Foundation and the Palms West Hospital children's ward," he said.
He encouraged the community to get out and support the cause next week.
"It's a great cause and a nice gesture," Poritz said. "You know you'll be participating in something that will help your neighbor."
For more information, e-mail poritzs@pbso.org.
The Hometown Holiday Toy Drive is collecting new, unwrapped toys through Monday, Dec. 16. Residents may drop off toys at any village office or Van Dell Jewelers. For more information, call (561) 791-4000.