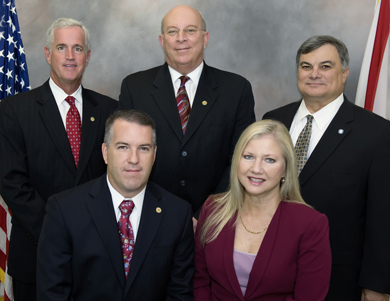 The Wellington Village Council will hear proposals from eight lobbying firms next month as the village seeks to find new representation in Tallahassee.
At a meeting Monday, council members discussed what they would like to see from a new lobbying firm and opted to hear proposals from all of the firms before making a decision.
"I want to talk about what we want to do," Gerwig said. "What do we want to put the emphasis on as a council?"
Village Manager Paul Schofield said lobbying is needed mostly at the state level. "There is time when we need to have a presence in Washington, D.C.," he said. "But the bulk of the time we will need representation in Tallahassee."
Gerwig asked whether council members wanted to "whittle down" the candidates to a smaller list as they had done with the village attorney proposals, or to hear all of them, as they did with the auditor proposals. "The attorney had a lot more applications, and we narrowed it down to five," she said.
Councilman John Greene said he had been hoping to hear presentations that night. "I don't want to sit here and make a motion to come back," he said.
Gerwig asked if he would be OK with narrowing down a list, and he said he would be.
Vice Mayor Howard Coates said Wellington might need to hire additional lobbyists for representation in Washington.
"I think our need for federal lobbying efforts are so remote that when they come up that we should look at a specialized lobbying firm," he said. "Those issues are so specific, we may need additional help regardless of what our lobbyists do at a state level."
Schofield said the need for lobbying varies, but noted that the Federal Emergency Management Agency maps, the Environmental Protection Agency water control guidelines and State Road 7 extension were issues he expected to need representation for.
Coates pointed out that many of the proposals before the council were joint proposals with several lobbying firms. He also noted that there was a great disparity in cost — from $40,000 to around $150,000 a year.
"Have we typically had an arrangement, and has it worked, where we have two firms collaborating?" he asked. "It seems like there is a broad range in terms of what these proposals offer."
Gerwig asked how much Wellington paid for lobbying services in the past and how much they were used.
Schofield said Wellington paid about $80,000 a year for its previous lobbying firm.
"In some years, it was higher than that, typically when we were in Washington a lot," he explained.
He said it was not uncommon to have a joint contract. "To find one person who can do everything is more the exception than the rule," Schofield said.
Councilman Matt Willhite noted that lobbying firms often work together to have greater influence. "They know different people," he said.
Willhite wanted to see a lobbyist notify the village about grants and other money-generating measures. He suggested finding a legislative affairs person. "They could work with our senators and representatives, as well as our lobbyists," he said.
Schofield said council members could choose to hire a lobbyist on retainer or by the hour only when needed, but Mayor Bob Margolis pointed out that legislation moves quickly.
"Things can happen very quickly," Margolis said. "Language can be added to a bill that would affect us. I would like the lobbyist to be available to us on a monthly retainer. You never know when you'll need a lobbyist."
Coates said he wasn't entirely comfortable paying for a lobbyist on retainer if it wasn't necessary. "There is an added cost when you have them on a retainer basis," he said.
Schofield noted that most of a lobbyist's work is done before the legislative session, preparing legislation and meeting with representatives. "They have to get in front of the legislative delegation and get bills ready," he said. "If we don't have a local bill prepared by the end of the year, it won't make it into the legislative session in March. In some years we get more than we pay for, in other years we don't use it as much."
Gerwig said she would rather work closely with lobbyists for better results. "We'll need to have a good relationship with them so they can see what is happening and how it will affect us," she said.
Further, she said that the village manager should act as a liaison to the lobbyist and legislators.
Schofield said lobbyists are important in Tallahassee to put Wellington's issues before the right people.
"If I go up there, I can get in to see who I need to see, but it's going to take three, four or five weeks," he said. "A lobbying firm will get in the door quicker and know which staff members to go to."
Margolis said it is important that council members also spend time in Tallahassee to advocate. "It weighs heavily [on legislators] when they see that an issue is so important that we're up there to discuss it," he said.
Schofield agreed. "Nothing resonates like when you tell them you're a mayor or council member," he said. "They would rather deal with elected officials."
Coates said he'd like to have updates on what Wellington's lobbyist is doing once they hire a firm.
"I'd like to know what issues they are actively addressing," Coates said. "The perception right now is that they come in the door and do nothing. If you give us reports on what they are working on, I think that would help."
Willhite agreed. "We had a lobbyist firm all six years I was here and I don't think I worked with them at all," he said.
Schofield said it was important council members have a lobbying firm they can trust to represent and guide them in Tallahassee and Washington, D.C.
"I suggest you talk to each of the firms," he said. "You need a lobbyist, but you need one you're comfortable with."
Margolis said he would like to hear all of the presentations. "If they are willing to come and make a presentation, I'm willing to listen," he said. "I'm hesitant to throw out any of these firms."
Coates agreed. "The type of service we're looking at is very individualized and personalized," he said. "I think it would behoove us to meet with each of the groups and see what they bring to the table."
Greene suggested doing shorter interviews with each firm and then asking any top contenders to come back if needed.
"I think it's important to see them and how they communicate," he said. "If they can't convince us on their skills, they might be hard to sell us before legislators."
Greene made a motion to hold 30-minute interviews with all eight firms with 10 minutes for questioning. The motion passed unanimously.
ABOVE: The Wellington Village Council.