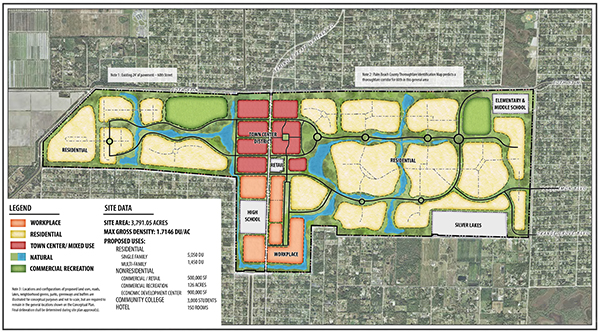 The Indian Trail Improvement District Board of Supervisors held a public input meeting with Minto West representatives Monday to respond to questions about its request for up to 6,500 homes and about 1.4 million square feet of commercial uses on the former Callery-Judge Grove property.
The meeting, attended by about 50 residents, had been arranged by the ITID board after Minto West representatives gave a presentation to the board last month without public input.
Minto Communities Florida recently purchased the 3,900-acre property for $51 million. The land, located off Seminole Pratt Whitney Road, has a future land-use approval for up to 2,996 homes and up to 235,000 square feet of non-residential uses.
Minto is requesting the necessary land-use changes to more than double the number of homes and greatly expand the allotted commercial space. Land planner Don Hearing with the firm Cotleur & Hearing, representing Minto West, gave an overview of the project.
"I know that there may be some of you in the audience who are supportive, and there are some of you who have a lot of concerns," he said. "We can walk you through the project so that you can have a better understanding. Perhaps you have some ideas that you can share with us. The more of that dialogue that we enter into, the better off we will be and the better the project will be in the long term."
Hearing said Minto has a web site, www.mintoinfo.com, where people can provide comments, learn more about the project and find out about future meetings.
"Our goal is to bring together a project that will be the heart and focus of the western communities, provide some identity to it, and also create some regional sustainability," Hearing said. "The area out here in The Acreage has been historically underserved by services, so we want to create an area out here that not only our residents will love, but something that the community will embrace and find great value in."
Hearing said there probably will be an increase in traffic, but the goal is to shorten those traffic trips. "We want to internalize them," he said. "If we just go build 2,996 homes today, which we could do very easily — Minto has done it many, many times — 100 percent of the cars going in and out of the communities are going to be driving to West Palm Beach, Palm Beach Gardens and Wellington for services."
Hearing said Minto is attempting to put together a balanced development program that will be more sustainable in the long term, adding that the developer is required by the county and the state to follow "New Urbanist" principles that provide employment, shopping and walkable communities that minimize vehicular travel.
Minto Vice President John Carter said the proposed design with a 900,000-square-foot employment center would create about 3,100 jobs.
"The intent of the design isn't to have a job for each and every resident who moves into this community," Carter said. "There may be, in fact, individuals like me who live in northern Palm Beach County, but my job will be elsewhere in the county."
Hearing said Minto West retains Callery-Judge Grove's water discharge permit of 2 inches per day, which it would not need in its entirety because of extensive planned water retention areas. The developer would be willing to share those discharge rights with ITID, which is currently limited to a quarter-inch of drainage per day.
He added that the design of Minto West provides a 400-foot average buffer zone, which is increased by a development plan that puts denser uses along Seminole Pratt Whitney Road and less dense uses along the outer edges. "We're designing this so that around the perimeter, about 600 feet, the average density is going to be around 1.5 or 1.7 units per acre," he said. "We're trying to be very conscious about transitioning our density."
He said transportation has been an issue in The Acreage, where road development has not kept up with construction. "This area has been neglected in many ways, and there are opportunities to collaborate on a regional transportation network," he said.
Resident Andrew Robinson asked whether Minto is planning on making connections to 60th Street and Persimmon Blvd., and whether it is supporting the State Road 7 connection to Northlake Blvd., and Hearing said it would.
"The State Road 7 connection is something that is critical to mobility in Palm Beach County," Hearing said. "I think anybody who lives in the western area here recognizes that."
Resident Lillian Hall said Acreage residents are happy with their rural lifestyle the way it is, and objected to Minto West representatives' contention that greater lifestyle diversity in the area is desirable.
"I'm listening to this, and I'm insulted," Hall said. "You seem to think you have the answers to all of our problems. We don't see them as problems. Our roads are not problems. Our lack of housing diversity is our lifestyle out here."
Hearing said the project is not intended to disrupt surrounding residents' lifestyles.
"There is no way that we would want to insult you," Hearing said. "There are some things that are lacking from an infrastructure standpoint. We think that if we work together, we can solve some of those. We think that the surrounding area is wonderful."
Hearing said the proposed project would bring services, education, entertainment and jobs closer to residents and, in many cases, reduce travel time and distance.
"Our project will provide greater diversity in there, and we wouldn't expect you to be forced to come in and do your shopping there or buy a home here," he said. "Those who are interested in Minto West will buy a home here and come here, and the surrounding areas will provide great support. We believe that the surrounding communities are a great asset."
Conversely, Hearing said the Minto West project is intended to be an asset to the surrounding communities. "We are trying to create something that you would be proud of," he said. "I can tell you that, with 2,900 homes, everyone will be driving somewhere else to work."
Former Supervisor Mike Erickson agreed with Minto's contentions that some of the traffic needed to be contained within the development, but thought that 2,996 homes would be sufficient if the non-commercial allotment were increased.
Hearing said that Minto had to create a development that would make non-commercial enterprises want to locate there. "It might not be self-supporting until the 35-year period that it is built out," he said. "You can ask any investment banker to come out and build, they're not going to come. You need something that they perceive is of great value and great benefit for them to come."
Carter said that Minto is trying to create a development that would have "critical mass," with a residential component that would support the non-commercial aspect. He added that the Seminole Improvement District, which governs the Minto West area, has great bargaining power to entice investors into the project.
"One of the great opportunities we have here is to use the Seminole Improvement District, which has well-articulated powers, more so than what the Indian Trail Improvement District has," he said.
Key to the financial end of the project is the ability to issue infrastructure bonds. "We're looking at using those powers to leverage the ability to get bond financing over the next 30 years to support the $50 million in road impact fees and 15 miles of buffers," Carter said. "The residential count is important because that bond financing debt is carried by the residential side, not by the commercial side."
ABOVE: The Minto West conceptual plan.