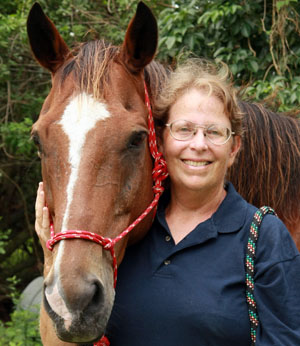 TAILS FROM THE TRAILS
For most of us, our teeth are in our mouths, but for Brandon Gager, you could say that teeth are in his blood.
"I'm the third generation of equine dentists in my family," Gager said. "We've been doing this as a profession since 1958, but it actually goes back much further than that in my family, to the turn of the last century."
Gager grew up in New Jersey and, early on, worked at Fox Chase Farm, a Thoroughbred breeding facility. His uncle Edmund worked on many horses in the area, and Gager apprenticed with him, going out on calls starting when he was 13.
"Uncle Ed knew everything there was to know about equine dentistry," Gager said. "He worked on many of famous horses, Kentucky Derby winners and Olympic horses. He even wrote a book used at veterinary colleges called Sound Mouth, Sound Horse: The Gager Method of Equine Dental Care."
About five years ago, Gager got a call from a friend who lived in Palm City who had snapped a tendon in his arm.
"He asked if I could help him out while he had surgery and healed, since he couldn't physically do the work," Gager recalled. "I came down for what was supposed to be 10 months, only I never left, which didn't make him too happy, but there are enough horses in this area for everyone."
There was another big reason for Gager to stay. One day he was working on some fox hunters and met Andrea Stoll, now Andrea Gager. They married this past September and live on D Road in Loxahatchee Groves. Andrea runs Equus Oasis, where she boards retired show horses and hunters, and still hunts with the Palm Beach Hounds.
In his career, Gager has worked with tens of thousands of horses.
"The Gager Method is traditional hand floating," he said. "It's more natural, sedation free, and we don't use power tools or a speculum to keep the horse's mouth open. We use a lot of horsemanship, which is more comfortable for the horse. Floating teeth is a very physically demanding job. I'm 6-foot-3, 240 pounds, and I'm the smallest one in my family doing this. It's hard work."
Floating teeth means using a small rasp to file down the sharp edges horses develop on their 24 molars as they chew. Gager said that 90 percent of his work is regularly floating teeth.
"Typically, I start working on horses when they turn two years old," he explained. "That's when I remove their wolf teeth, small premolars which many horses have, especially in their upper jaws. These teeth serve no real function and can become painful or inflamed by the bit. I can pop them out without sedation, but it's really hard if the horse hasn't been handled a lot. It can get pretty wild. Most horse owners have the wolf teeth removed by a vet if the horse was a stallion. During the gelding operation, most vets go ahead and remove the wolf teeth as well while the horse is out, which makes things a lot easier."
Gager recommends that horses age 2 through age 5 be seen by an equine dentist twice a year, as this is the time when horses shed their baby caps. After age 5, they have all of their adult teeth and should be checked once each year.
Problems in the mouth may result in problems under saddle.
"A horse who is always throwing his head or strongly objecting to the bit may have a bad tooth," Gager said. "Many head problems and even bucking can be a horse trying to tell you he has a toothache. A horse who is not chewing well, called quitting, is another sign of dental problems."
Interestingly, Gager has noticed a similarity between horses' teeth and their hooves. He said horses with softer teeth tend to have softer hooves, while horses with harder teeth have harder hooves.
"Thoroughbreds, as a breed, often have softer teeth and hooves, so they're easier to float. Quarter Horses and Arabians often have tougher teeth and hooves. Warmbloods are usually easy to do because they're handled so much. Tennessee Walkers are my favorites because they're so sweet, like big Labradors. They just want to please people. Spotted breeds, like Appaloosas or blue-eyed Paints, can be tough. They see things differently and can be obstinate. You've got to be on top of your game, doing them. Drafts and draft crosses are sweet and easy."
Brad Gaver, owner of Pure Thoughts Horse Rescue, has used Gager for several years.
"He has helped us out with all sorts of horses," Gaver said. "I like that he doesn't use any drugs. The horses react well to him. I've recommended him to other horse owners. He and his wife are good people."
Jan Magee, owner of High Point Stables, agreed.
"I've used Brandon for about four or five years, for both my clients' and my own personal horses," Magee said. "He is very gentle and knowledgeable. I like that he takes time to explain what he's doing and how it'll help. One time we had a horse who somehow got a broken jaw and couldn't eat. Brandon came right out and did him, and almost immediately the horse was able to chew again. He healed up fine."
Gager is proud of his traditional methods of equine dentistry.
"I do teeth the old-fashioned way," he said. "It's a traditional method, which works well for me, for the horses, their owners and their pocketbooks. It's not fancy; it just works."
For more information, call Gager at (609) 207-8070.