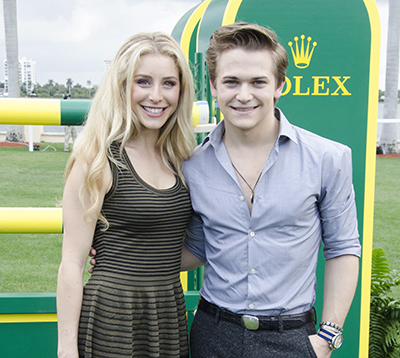 Country music star Hunter Hayes will top off an evening of charitable giving on Saturday, Feb. 1 as the 2014 FTI Consulting Great Charity Challenge presented by Fidelity Investments distributes more than $1.75 million to 34 local charities.
Hayes, a multi-platinum recording artist and four-time Grammy nominee, will perform a full concert during the event, at the Palm Beach International Equestrian Center. Tickets cost $35, a parking pass costs $20, and both are available online by visiting www.equestriansport.tix.com.
"Hunter Hayes is a great entertainer and is very generous in taking time out of his busy schedule to support this event," Equestrian Sport Productions CEO Mark Bellissimo said.
In its fourth year, the Great Charity Challenge is offering more money to more charities than ever before. Founded in 2010 by Bellissimo, wife Katherine and daughter Paige, the event has distributed more than $4.2 million to more than 90 charities in Palm Beach County.
The event pits teams of three riders against each other in a relay race. Each team is sponsored by a local family or organization and paired with a charity. The fastest team puts one of the charities in the running for $150,000 in prize money. The remaining funds are distributed on a sliding scale, with each participating charity guaranteed at least $15,000.
Doors open at 6 p.m., and the event will offer plenty of activities for families, including a petting zoo, magicians, street performers, face painters, carousel rides, a children's fair and more.
Currently, the event is slated to distribute $1.75 million, but Bellissimo said that number could be larger by Feb. 1. "With the addition of Hunter Hayes as a performer, we may even beat $1.75 million," he said.
Additionally, some grants will be offered to several charities up for the wild-card slots — two charities will be picked on the day of the event to compete for the prize money. "We'll be giving away about $75,000 to some of the charities in our list of candidates for the wild-card slots," Bellissimo said.
Bellissimo said he asked Hayes to perform as a way to highlight the event and the great work of the numerous charities.
"The event has been well-attended in the past, but we wanted to bring more energy this year," he said. "We are hopeful that [including Hayes] will raise awareness for the Great Charity Challenge and all the work these charities do. We hope more people will attend and understand the mission of these organizations."
A 35th team was added to compete on behalf of Hayes' charity, MusiCares, an organization that offers resources for people in the music industry who are in need.
The $35 ticket cost was implemented to keep attendance to a manageable level, Bellissimo said. Tickets are expected to sell out.
"We don't want to overwhelm the place," Bellissimo said. "We want to keep the perspective on what is important: the work of these great charities. We want the focus to be on charities first and the concert second."
Knowing that many supporters will want to cheer on their favorite organizations, Bellissimo has arranged to give away tickets to make sure each charity is represented in the stands.
"We are giving away thousands of tickets for charities, sponsors and local schools for their supporters to attend," he said. "We are subsidizing the cost of the concert. The goal is to raise awareness and engage the community."
Hayes is a performer, musician, producer and writer whose self-titled album released three consecutive No. 1 singles. He has sold more than 8 million singles, and his album has been certified platinum.
He is currently nominated for a Grammy — his fourth nomination — for his hit single "I Want Crazy," and is scheduled to perform at the 56th annual Grammy Awards on Sunday, Jan. 26. He has been featured as one of Forbes Magazine's "30 Under 30" and recently wrapped up a sold-out tour across the U.S. and Canada.
Bellissimo said he hopes to include other artists in the future in hopes of raising even more money to give away. "Our goal is to be giving away $2 million to $3 million," he said. "I think the inclusion of artists like Hayes will elevate the status of our event and help to highlight the missions of all of these charities. We hope it will bring new contributors to the event and increase the number of donations."
Supporters can vote online for their favorite charity to win an additional $25,000 by visiting www.ftigreatcharitychallenge.com. Voting closes Feb. 1, and the top three charities will win a portion of $50,000 total.
For more about the event, visit www.ftigreatcharitychallenge.com or call (561) 784-1133.
ABOVE: Great Charity Challenge founder Paige Bellissimo with country music star Hunter Hayes. PHOTO BY ABNER PEDRAZA