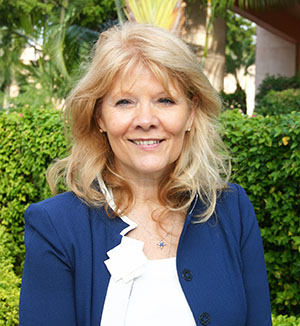 The March mayoral election in Royal Palm Beach became a four-way race this week when a third candidate came forward to challenge two-term incumbent Mayor Matty Mattioli.
Businesswoman Laurel Bennett joins former Councilwoman Martha Webster and community activist Felicia Matula, an alternate of the Royal Palm Beach Planning & Zoning Commission, in challenging Mattioli, who has been a fixture in Royal Palm Beach politics since 1994.
Bennett, a 15-year resident of the village, owns PHR Solutions, a personal health records company. She is active with the Central Palm Beach Chamber of Commerce, serving on the Economic Development and Government Affairs committees.
Bennett believes that Royal Palm Beach's government could be run more efficiently.
"I think I can do a better job than the other candidates who are running," Bennett told the Town-Crier on Monday. "Fiscal and moral accountability is something I really want to watch, and nobody is watching it. They're spending for all the wrong reasons."
As an example, she cited council members' recent debate whether to ante up $5,000 to the Western Communities Council to hire a lobbyist in continuing support of the State Road 7 extension, when it also budgeted $90,000 for the development of another dog park in the village.
"It doesn't make sense when you have 256,000 residents who use State Road 7, versus how many people will use the dog park," Bennett said. "All you need is a map to show where all these developments were supposed to connect to it, and how they need it to get out of here."
The economic advantages of the SR 7 project are also clear, giving many more people easy access to Wellington and Royal Palm Beach. "Think how much money you would save the residents traveling this way in gas alone, not to mention the mileage," she said.
The economic impact to local businesses would also be significant. "Now you have even more impact with Christmastime," Bennett said. "All the shopping that could have been done instead of at the Gardens Mall. How much more of it would have been done down here [if the extension were completed]?"
She is also concerned about the effect on property owners of the recently released Federal Emergency Management Agency draft flood maps that stand to raise insurance rates significantly. "That's going to impact us $3,000 to $5,000, some say $6,000 per year, if we don't get the correct data," Bennett said. "People can't afford that. We should be fighting that more diligently than we are right now."
Bennett also criticized the development of the new Royal Palm Beach Commons Park, which she said could have been more organized.
"We spent $23 million on Commons Park [but] we didn't put the kitchen in, so we had to allocate another $100,000," she asserted. "That's a huge mistake."
She also cited a problem closer to her home in Huntington Woods, where she is the homeowners' association treasurer, and a protracted paving project on Royal Palm Beach Blvd. that she believes resulted in contamination of the community's lake from stormwater runoff.
She said the problem is the result of mistakes when the curb-and-gutter system was installed, explaining that Royal Palm Beach Blvd. had swales before, which allowed stormwater to percolate into the ground rather than be directed into their lake.
"You have all the waste that comes off of cars, the oil and gasoline and everything now runs into our lake. It's additional water, too, which will back up in the event of a flood. The larger pipe that was promised was never put in," Bennett said, adding that several other developments along Royal Palm Beach Blvd. are also affected by stormwater runoff.
She also expressed concern about the number of times Royal Palm Beach Blvd. has been retrofitted. "How many times does Royal Palm Beach Blvd. have to be repaved?" Bennett said. "It's now called 'Patch Boulevard' by the communities, because as soon as it's fixed, it's repatched, and I'd like to stop that. Let's get it done right the first time."
Bennett said she is not so much dissatisfied with the current government as desiring to do some good. "I like everyone who is running or is in office, but I think I can do a better job," she said.
Bennett said one of the things she has asked for in the village is free community-wide wireless Internet. "Why don't we have free Wi-Fi?" she asked, pointing out that several municipalities are working on or already have the service. "I've asked for it for over a year. If we can spend $23 million on a park when we already have two parks in that area, why can't we do something for the residents?"
She added that Commons Park was also plagued with delays due to changes, and will now face annual expenses for upkeep. Bennett said she would favor amenities that are of greater benefit to residents, such as a senior center or a community swimming pool.
"Something like a community swimming pool would bring in income, because if you keep spending like this, eventually you're not going to have any money and taxes are going to go up," she said.
Bennett holds a bachelor's degree in computer science and a master's degree in business administration with a specialty in healthcare.
She has worked for several Fortune 500 companies, including Pratt & Whitney, McKesson and Sun Microsystems. In addition, she has taught computer programming classes at two universities and has been an analyst and project manager at several area hospitals.
For more information, visit www.electlaurelbennett.com.
The official qualifying period for the March 11 election opens at noon Tuesday, Jan. 28 and closes at noon Tuesday, Feb. 11. Aside from the mayor's race, Seat 1 held by Vice Mayor Jeff Hmara and Seat 3 held by Councilman Richard Valuntas are also up for election. No challengers have come forward yet for those seats.
ABOVE: Laurel Bennett