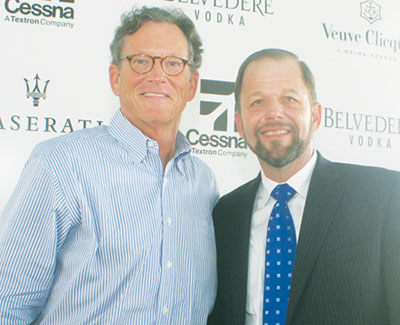 The International Polo Club Palm Beach kicked off 16 weeks of high-goal polo last weekend, offering the community the opportunity to see top athletes compete through April 20.
This year, the biggest tournament in the country will be broadcast on national television, giving the world a chance to see the gem of polo in Wellington.
"We're really excited about this season," IPC President John Wash said.
Director of Polo Operations Jimmy Newman said there is a schedule of fierce competition lined up over the season.
"This is going to be another great year," he said. "I'm so happy that we have 14 teams in the 20-goal tournament — the same as last year. We had 11 teams in the 26-goal tournaments last year, and hopefully we'll have more this year."
Also returning this season are top sponsors Piaget, Maserati, Veuve Clicquot and Belvedere Vodka.
Wash noted that the entire world will get to see polo in Wellington when NBC broadcasts the finals of the Maserati U.S. Open Championship.
Tony Coppola, longtime IPC announcer and regarded as "the voice of polo," pointed out that last year the U.S. Open was broadcast on NBC Sports Network, but this year it will be shown on the main channel.
"It's a big step up from where we were last year," he said. "People knew it was on last year and were flipping the channels looking for it. It will be on a major network this year, and that's a big plus for us and a big plus for the sport of polo."
Bob Jornayvaz, patron of the Zacara team, said he wants the world to see what a great venue IPC is for polo. "As someone who plays polo all over the place, this is one of the best venues to play polo at," he said. "I just can't describe the level of the 20-goal and 26-goal tournaments played here. It's better than the 22-goal polo we play in Argentina, better than what they play in Britain or Spain. It's incomparable to anything else in the world."
Coppola agreed. "The highest-rated polo played in the U.S. is 26 goals, and the three most prestigious tournaments — the Gold Cup, the C.V. Whitney and the U.S. Open — are held right here at the International Polo Club," he said. "The next highest level played anywhere in the U.S. is 20-goal, and in the summer, you will see four or five teams at other polo clubs. Here we have 14 teams. That just gives you an idea of the magnitude and amount of polo played here."
Jornayvaz said it's not just the number of teams, but their quality, that separates IPC from other venues. "There's not a weak team on that list," he said. "It's amazing that you can attract that many teams as good as these are."
Newman said IPC has seen an uptick in competitive teams over the years.
"Four or five years ago, you could look at the list of teams and see maybe one or two that you knew you could do better than," he said. "That's not the case anymore. You have a tough match no matter what bracket you're in."
Coppola noted that games are played throughout the week at IPC, and guests can observe for no cost except on Sunday afternoons.
"We don't just play polo on Sundays," he said. "There is a lot of polo played throughout the week, including medium goal and also some junior polo. IPC is very interested in bringing new players and young players along. You can call the polo hotline to find out when matches are."
Wash said that IPC has been reaching out to those in the community who might not be familiar with polo, offering the opportunity to come and see the sport.
"It's a very inexpensive sport to come to," he said. "For $10 on Sundays you can get in the door. We've made a major marketing effort to make the sport more accessible."
The club also hosts Wellington school children, as well as inner-city and underprivileged youth, to teach them about the sport.
"This is the 11th year we will host our fourth-grade polo day," he said. "We will introduce more than 1,600 students to the sport of polo. We've opened our doors to a lot of other organizations, including inner-city youth and underprivileged children. The patrons have really given their time to teach the sport and show them the horses."
Newman agreed. "We do a lot for young players and to bring community awareness," he said. "We have a lot going on here."
Coppola encouraged the community to come see for themselves. "Most people, once they come out and see a match, they keep coming back," he said.
Although the official kickoff to the polo season was rained out last Sunday, the Herbie Pennell Cup finals were rescheduled for Monday, when Lechuza Caracas defeated Villa del Lago/Casablanca 14-11 to take the win.
High-goal polo continues each week through April 20. For tickets or more information, visit www.internationalpoloclub.com.
ABOVE: Zacara patron Bob Jornayvaz with IPC President John Wash.