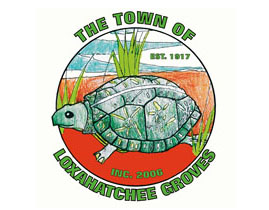 The year ahead for Loxahatchee Groves will go a lot more smoothly if a number of lawsuits against the town go away, Town Manager Mark Kutney told the Town-Crier this week.
Lawsuits include three by resident and unsuccessful town council candidate Todd McLendon over a code disagreement, the petition for a referendum to stop Palm Beach State College's development of a new campus and a new suit regarding alleged retaliation over both his code case and the referendum petition.
Other lawsuits are by the owners of the Day property at Folsom Road and Okeechobee Blvd., who were denied a commercial development application, and a code dispute by Wellington's Edge Farm on B Road.
"I would like to see a lot of the lawsuits that we currently have pending resolved," Kutney said. "They take a lot of our time."
He also wants to see the development applications move forward on the Loxahatchee Groves Commons and Loxahatchee Groves Center projects at B Road and Southern Blvd.
Another priority is to improve the procurement process and get a consensus from council members on whether it's OK to make some purchases on piggyback bids or be required to put out more time-consuming invitations to bid.
Kutney anticipates the passage of two local bills in the state legislature recently approved by the Palm Beach County Legislative Delegation that would transfer ownership of roads and canal easements from the Loxahatchee Groves Water Control District to the town, which has authority to control the roads, and money to build long-awaited equestrian trails on the canal easements.
How the transfer process takes place, if the local bills go through, is another question.
"There have been some different opinions," Kutney said. "The act pretty much indicates, and some people have the position, that the town will get the roads after the OGEM treatment has occurred, and then there are some folks who have the opinion, 'Why the wait? Why not go immediately to the town?' It's a matter of that issue evolving over time."
Meanwhile, Palm Beach State College is in the planning process to start construction of its new campus at Southern Blvd. and B Road. "I look forward to the college coming in," he said. "I think it's going to be a good use. I know there are a number of people who have a difference of opinion, but I think it's going to help the town immeasurably."
Development of the college will also be a matter of three parties collaborating on development of infrastructure, including improvements to B Road, which will involve traditional paving of B Road from Southern Blvd. to south of Collecting Canal Road, and OGEM from Collecting Canal to Okeechobee Blvd.
He anticipates that the relationship with the LGWCD will continue to improve. "From their staff and our staff, [LGWCD Administrator Stephen] Yohe and I get along very well, and we work very cooperatively together. I think that has improved a great deal," Kutney said. "They are a vendor to us for a number of services. We have three contracts, for emergency call-out, road repair, and typical grading and maintenance. Our roles are changing somewhat, and the development of B Road at the college is a good example."
He said road issues will continue to arise, with some people who want the town more involved and others who want to be left alone. "There are little disputes that happen, but that's just a fact of life," Kutney said.
Underwood Management Services Group, the firm Kutney works for, is in the third year of a three-year contract ending Sept. 30, 2014, which provides for two one-year extensions. Both Kutney and company owner Bill Underwood recently commented that town management is getting increasingly labor-intensive and difficult to negotiate with the resources it has.
"I think it's kind of a wait-and-see situation as to where we go, and of course, the council will have to want us around, too," Kutney said.
Kutney also looks forward to further development and resolution of disagreements over the town's capital improvements plan and where to place emphasis. "We'll be addressing some of those situations," he said, explaining that the Finance Advisory & Audit Committee recently questioned the continued use of OGEM surfacing. "That gets to some visioning. I think it would be good at some point in this coming year to sit down with the council and reassess where we want to go."
Another issue in the coming year will be the 3,800-acre Minto West development, formerly Callery-Judge Grove, immediately north of the town. "Our mayor is strongly concerned about the development of Minto," Kutney said. "I think the posture of the town is going to depend on the direction the town council wants to go."
The options include whether to take a fighting position or to try and work with Minto on solutions that are best for both entities. Kutney said many residents and council members are OK with the existing approval for 2,996 homes and 200,000 square feet of non-residential use, but are deeply concerned about the proposed increase to 6,700 homes and more than 2 million square feet of non-residential use.
"Town management is committed to making continuous improvements to the community," Kutney said. "We've come a long way, but we still have a long way to go."