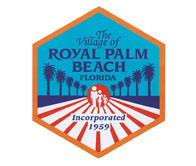 Residents of Royal Palm Beach can look forward to a year of new uses at Royal Palm Beach Commons Park while expansions for the park come together. Meanwhile, the village will continue its improvement projects in parts of the village and also celebrate the completion of the Aldi distribution center.
Village Manager Ray Liggins said that residents can expect a lot of activity at Commons Park in 2014, including the return of the popular West Fest event.
"We're bringing West Fest back to Royal Palm Beach," Liggins told the Town-Crier Tuesday.
The former Palms West Chamber of Commerce used to host West Fest at the Village Hall property years ago. "It was very popular," Liggins said. "We're going to bring that back this spring at Commons Park."
West Fest will be a new addition to the park's already bustling schedule of activities that includes holiday festivities, food truck nights and the Royal Palm Beach Green Market & Bazaar on Sunday mornings.
Residents also will see construction of several expansions for the park, most notably the planned dog park and disc golf course.
Last year, the Royal Palm Beach Village Council approved a $93,000 budget for a 4.5-acre dog park to give residents and their pooches more room to play. Liggins said plans are expected to be finalized for the park in 2014.
About $15,000 has been allocated for an 18-hole flying disc course in an undeveloped portion of the park that once served as a nine-hole golf course. The course is expected to be designed and installed in 2014.
Royal Palm Beach will also spend about $135,000 for improved lighting on the Great Lawn at the park, which will illuminate the space for the village's many public events.
Liggins said the village is also looking forward to the completion of the Aldi grocery store distribution center, on which construction began last year. "I'm sure that building will be open by the end of the year," he said.
The first Aldi grocery store in the western communities is also slated to open on State Road 7 this year.
Meanwhile, the village will continue its improvement project along Crestwood Blvd., Liggins said. "We put in on-street bike paths along the road," he said. "This year we will be completing the curbing on that project."
The 2014 Royal Palm Beach municipal election is also expected to dominate headlines with a three-way race for mayor already shaping up, as well as two council members up for re-election.
Mayor Matty Mattioli announced last year that he will seek a third term as Royal Palm Beach's mayor. He faces a challenge from community activist Felicia Matula, who lost to him two years ago. Former Councilwoman Martha Webster has also announced her intention to seek the mayor's seat.
Also up for election in March are Seat 1 held by Vice Mayor Jeff Hmara and Seat 3 held by Councilman Richard Valuntas. Neither had drawn a challenger at press time, but candidates have until mid-February to qualify for the March 11 municipal election ballot.