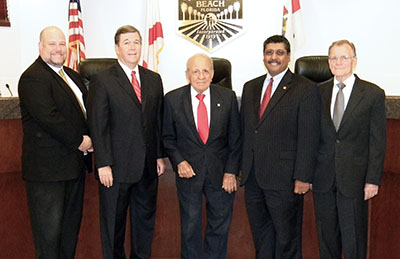 The Royal Palm Beach Village Council gave preliminary approval to an ordinance last week that would drop the existing requirement that at least 50 percent of parcel owners in planned developments must approve building applications.
At the council's meeting Thursday, Jan. 16, Planning & Zoning Administrator Bradford O'Brien said that under current regulations, owners submitting development petitions for parcels of land within a planned development must obtain consent from owners of more than 50 percent of the parcels under separate ownership.
"This amendment will remove the development order mentioning the written consent requirements to require that written consent is obtained only from the owners of the parcels in the planned development that are subject to the development petition," O'Brien said.
Councilman David Swift asked why they were considering the change, and O'Brien said village staff had an instance where a property owner of an outparcel within a planned commercial development, consisting of four parcels, was having trouble getting consent from more than 50 percent of the owners.
"This is essentially removing that requirement from our code," O'Brien said. "We have the feeling that the property owners' association documents should be designed to protect owners from each other, and that's not necessarily our responsibility."
Councilman Fred Pinto said the amendment is an indication of how the needs of the village have changed as time has gone by.
"When this was originally crafted, it was designed to help us control the explosive growth that the village went through many, many years ago," Pinto said. "Now that we're really built out, we're going through a different phase now. We have sub-developments within these PUDs, and they want to make modifications and upgrades. This [rule] is really inappropriate in the more developed areas and areas that are under redevelopment. I think the situation has become a hardship for residents who have to make these modifications."
Councilman Richard Valuntas made a motion to approve the ordinance, which carried 5-0.
In other business, the council also gave preliminary approval to an ordinance that would increase allowable green market items to include arts and crafts, flowers, plants and shrubbery.
The ordinance currently allows for the sale of fresh, unprocessed fruit and vegetables, flowers and consumable items such as coffee, bread and prepared food. No secondhand goods may be sold on site as part of the village green market.
The Royal Palm Beach Green Market & Bazaar takes place every Sunday through April 27 from 9 a.m. to 1 p.m. at Commons Park. It includes locally grown produce and organic vendors, with live music and entertainment. Potential vendors may visit www.rpbgreenmarket.com or call (561) 792-9260 for more information.
ABOVE: The Royal Palm Beach Village Council.