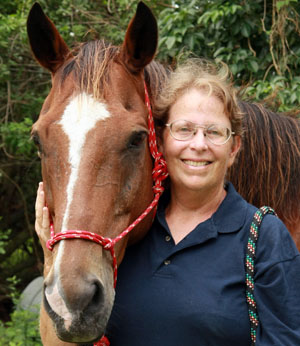 TAILS FROM THE TRAILS
The cool weather and overcast skies did nothing to dampen the spirits at the Interscholastic Equestrian Association show. With the show taking place during the Jan. 4-5 weekend at the Jim Brandon Equestrian Center, the covered arena dispelled any worries about rain. The parking lot and stalls were filled, and hopeful riders, along with their friends, families and teammates, kept up a cheerful hubbub, erupting in applause as each class ended and ribbons were handed out.
The Interscholastic Equestrian Association was established in 2002 with just 200 participants. Its mission is introducing students in middle school and high school to equestrian sports, and promoting and improving the quality of equestrian competition and instruction in Western riding, hunt seat and saddle seat. Today, the IEA has more than 8,000 members in 32 states across North America. It's an affiliate of the National Reining Horse Association, the United States Equestrian Federation, the United States Hunter Jumper Association and the Intercollegiate Horse Show Association.
Heidi Lengyel of Wellington cares deeply and passionately about the IEA. She was the show's manager and is also the Zone 4-5 regional chair. Her Wall Street Farm is home to one of the largest IEA teams in the country, with 28 members.
"I've been involved with the IEA for five years," Lengyel said. "When I moved to Wellington, there were tons of riding opportunities for kids, but most of it was at private, expensive barns. The IEA levels the playing field and allows kids from all kinds of socioeconomic backgrounds to enjoy the wonderful experience of showing."
The problem for many families with horse-struck children is that owning and showing horses gets real expensive, real fast. The IEA offers the perfect solution. No one owns or rides their own horse. All they need is their own show attire.
A weekend of IEA showing can cost $200, including all coaching and entrance fees. Weekly riding lessons typically run $35 to 50. If families can't afford it, they can apply to the IEA for a grant and to programs such as the IEA Financial Assistance Program. Students can also earn scholarships toward their college education through awards in competition and sportsmanship.
Teams practice weekly at their home barns on team horses. There are mounts and classes for all levels of riders. When a barn hosts a show, they invite other teams and provide horses, which are randomly chosen by each rider just before the class. Scores are based on horsemanship and equitation.
This show at Jim Brandon was co-hosted by Wall Street Farm and the Vero Beach Equestrian Team. There were 50 horses, 17 from Wall Street Farm, the rest brought by other teams to make sure there would be enough mounts. Competing teams included Bay County, Hillside Hunter Jumpers, American Heritage, International Equestrian Center, Carrollwood Day School, Carriage Hill Farms, Southern Oaks, Riverbend, Fairwin Farm, Claudia Heath Farm, Kimberden, Childs Play Farm, Millpond, Vero Beach and Pennington.
"I like that you can't go out and buy your ride," Lengyel said. "A few minutes before your class, you pick a horse's name. You're not allowed to practice at all if it's a flat class, but you can take two warm-up jumps if it's an over fences class. It can be humbling. I love the team spirit. It's not just about competing and winning. It's very refreshing to see all the kids help one another and get along."
New members are accepted onto teams from August through mid-November. Membership runs $45 per year. Members can compete in only five shows per year, and earn points, which can then qualify them for regional, zone and national finals. Wall Street Farm has had riders attend the national finals the past four years.
Marina Garber, 16, of Loxahatchee, has been with the Wall Street Farm IEA team for three years. "I like Heidi a lot," she said. "She's our coach and trainer and best friend all in one. The team is really close. It's a great program, and it looks good on a college application."
Kasey Joyner, 18, of Greenacres, is another member. "I've been riding with them for three years," she said. "I've met a lot of new friends. It's also a great learning experience, because you get to ride a lot of different horses."
Jackie George is the Zone 4, Region 5 consultant and also affiliated with the Millpond team in Coconut Creek, which has 26 members. She brought 12 riders and four horses to the show. "The IEA gives kids without horses the opportunity to compete in an otherwise very expensive sport," she said. "It promotes sportsmanship and camaraderie. Instead of showing being all about me and my horse against everyone else, these kids root for each other and pull for the team."
Christina Clark is the coach of the Vero Beach Equestrian Team and owner of Atlantic Crossing Stables. She brought 13 riders and three horses. She said the show was well-run and that everyone enjoyed the facility. Alexa Frye, a 14-year-old team member, had just watched her younger sister, Olivia, place third in her class. "I like being part of a team and riding all kinds of different horses," she said. "Also, you have somewhere to go. You start junior varsity in middle school, then move up to varsity in high school, then the IHSA in college. It's a great introduction to riding, and even better because it's a team sport."
For more information, call Lengyel at (561) 628-0973 or visit www.rideiea.org.