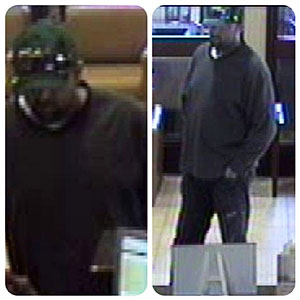 JAN. 23 — The Palm Beach County Sheriff's Office is seeking the public's help in locating a suspect in a bank robbery case.
According to a PBSO report, on Thursday, Jan. 23, at 1:23 p.m., an unknown suspect entered the BB&T bank located at 151 S. State Road 7 in Royal Palm Beach and passed the teller a note that said, "Give me all your large bills, no dye pack, and I have a gun." According to the report, no weapon was seen.
The suspect is described as a black male between 30 and 35 years old, approximately 6', heavy set, with a groomed beard and wearing a green ball cap, sunglasses with green tint, a gray long-sleeve shirt, blue jeans and clear latex gloves.
Anyone who can identify this suspect or has information regarding the robbery is urged to contact Crime Stoppers at (800) 458-TIPS.