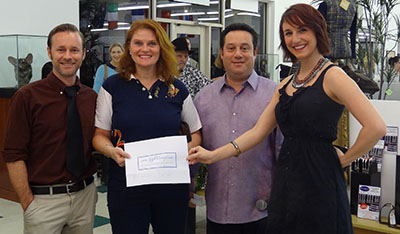 On Thursday, Jan. 9, the Wellington Equestrian Gallery and Mall held its official grand opening reception amid an atmosphere of anticipation and excitement.
As the guests arrived, they heard the welcoming sounds of one of Wellington's favorite singers, Larry Brendler. The evening had a jovial atmosphere as Brendler sang some of the crowd's favorite tunes and bantered with the guests.
The crowd quickly grew in size, as many new, curious guests and returning clientele arrived to explore the new facility and the fantastic, newly arrived vendors' merchandise and artists' work from around the world. As the crowd grew, many stopped to socialize with friends and chat with the vendors.
There were plenty of appetizers stations scattered throughout the space, so that the crowd could continue to snack and sip some wine as they meandered their way to visit all of the artists and vendors.
To make the evening extra special for the guests, each vendor donated one item from their booth to be raffled off. All of the items were beautifully displayed on a large table at the front door, and as the guests entered, they were invited to pick which items they would like to win. Then, they were instructed to wind their way through the gallery to find the vendor's booth that had donated the item, where they would be able to enter a ticket into the drawing to win it.
As 8 p.m. neared, the music and socializing quieted down. Everyone anxiously gathered around the raffle table and waited as Brendler picked the winning tickets for more than 15 individual raffle items, including gift certificates, jewelry, pieces of art and other merchandise.
The event was a great success. "We have been working for weeks to create a unique mall that features an eclectic mix of various artists' work and vendors' merchandise — all with an equestrian focus from around the world," Gallery Manager Robin Carr said. "By relocating this year, we were able to double our size and increase the number of vendors that we can showcase. Judging by the crowd at tonight's grand opening, I think we are off to a terrific start to this season. There were people who have visited us before, and there were new faces, also. I think that we truly have something for everyone."
The Wellington Equestrian Gallery and Mall is located at 13889 Wellington Trace in the Wellington Marketplace. It is located in the storefront formerly occupied by the Tackeria, next door to Wellington Florist. For information about the gallery, call (561) 793-4427 or visit www.wellingtonequestrianmall.com.
ABOVE: Robin Carr awards a gift certificate to Lisa Neuman, as Larry Bendler and Elizabeth Rohloff look on.