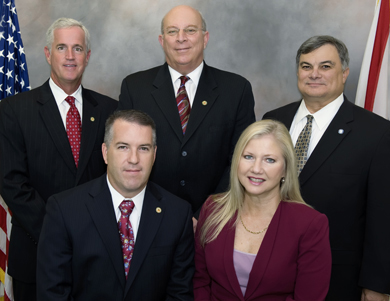 Members of the Wellington Village Council took a step this week to end the sale of "puppy mill" pets in the village.
On Tuesday, the council unanimously approved the first reading of an ordinance that would ban the direct sale of dogs or cats in pet stores in Wellington. Under the ordinance, pet stores would be able to display and adopt out dogs and cats from verified rescue groups.
But Vice Mayor Howard Coates worried the ordinance didn't go far enough. A measure that allows for the sale of dogs and cats on property owned by the seller is a loophole "big enough to drive a truck through," Coates said.
"I think this statute may not go far enough to eliminate the ability of 'puppy mills' to operate in Wellington," Coates said, asking that Village Attorney Laurie Cohen look for more ironclad language before final adoption of the ordinance.
The ordinance was spurred by resident Lorrie Browne, who started the campaign after she adopted a sick dog who had been used for breeding at a "puppy mill" — large, commercial breeders that often breed sick animals for profit.
"I took a dog who had been bred for six years straight," Browne said during public comment. "If we hadn't taken her, she would have been euthanized. She came with a broken spirit."
Don Anthony, communication director for the Animal Rights Foundation of Florida, noted that these puppies and kittens often come from horrendous conditions.
"The animals are often overcrowded, neglected, starved and diseased," he said. "They breed them until they are spent and killed."
Passing the ordinance would help curb such practices, he said. He noted that Lake Worth was the first community in Florida with such a ban. "Stores selling pet food and pet products are fine," he said.
Cohen said that because no pet stores are currently open in Wellington selling dogs or cats, the ordinance would not affect any existing businesses.
Councilwoman Anne Gerwig said that the ordinance was an important step to get rid of the "puppy mill" business practice.
"There is no business model that supports selling puppies and kittens in a store unless they come from a 'puppy mill,'" she said.
She said that Wellington is an animal-friendly community with residents who have a passion for their pets.
"This community cares so much about its dogs, cats and horses," Gerwig said. "It seems something like this would be a natural fit, to make sure the animals are cared for properly. I hate to pass an ordinance based on worst-case scenarios, but I don't see the support for this business model."
Gerwig pointed out that residents looking for purebred animals could still buy from breeders.
"You will still be able to buy purebred dogs," she said. "You'll just have to go to a legitimate breeder. I think it's a good thing for us to do. It shows how much we care about animals."
Mayor Bob Margolis said he had personal experience with "puppy mills."
"I had a puppy from a 'puppy mill,'" he said. "I know what happens when you bring a puppy home and it gets sick. The store tells you to bring it back, but you can't just bring it back because you've fallen in love with it. I hope no one would purchase a dog from a 'puppy mill,' but I want to make sure that does not happen."
Cohen said she would look at how other cities define a "puppy mill" to see if Wellington could tighten the language.
Coates made a motion to approve the ordinance, which passed unanimously.
ABOVE: The Wellington Village Council.