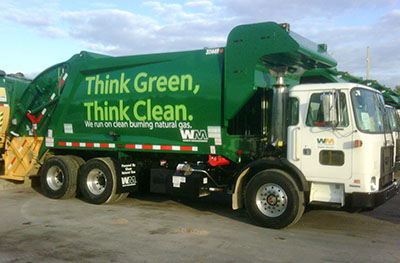 Wellington will soon become the first municipality in Palm Beach County to have garbage trucks that run on clean-burning compressed natural gas (CNG) rather than diesel fuel.
"Waste Management is working in partnership with Wellington regarding our trash and recycling," Wellington Chief Financial Officer Tanya Quickel told the Town-Crier this week. "Trash will now be picked up with trucks that use compressed natural gas. This is important because it will allow a much cleaner alternative to gasoline and diesel fuel."
Quickel said the change is in keeping with Wellington's designation as a Gold Certified Green Local Government.
"It's an important step in our commitment to environmental sustainability," she said. "Wellington is the first municipality in Palm Beach County to take advantage of this green technology in conjunction with Waste Management."
Quickel said CNG-powered trucks have important environmental advantages.
"Each CNG-powered truck saves, on average, 8,000 gallons of diesel fuel from being used per year, and it reduces annual greenhouse gas emissions by 22 metric tons. That's per truck, each one," Quickel explained. "The other benefit is they are very quiet, much more so than trucks fueled by diesel."
Eleven CNG trucks will serve Wellington, with each truck reaching 147 houses per hour, ensuring that trash pick-up will remain quick and efficient.
"That will keep us on our schedule," Quickel said.
ABOVE: Waste Management will soon be using trucks powered by compressed natural gas.