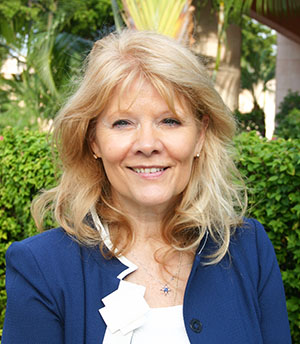 Royal Palm Beach businesswoman Laurel Bennett hopes residents will give her a chance to be their voice on the dais as she seeks the mayor's seat in the Royal Palm Beach municipal election.
Bennett, along with two others, is challenging incumbent Mayor Matty Mattioli in the Tuesday, March 11 election. Also on the ballot is former Councilwoman Martha Webster and community activist Felicia Matula.
"I'm a fresh voice, and I will be a voice for the people," Bennett told the Town-Crier.
A 15-year resident of the village, Bennett owns PHR Solutions, a personal health records company. She has an MBA in healthcare administration and a bachelor's degree in computer science. Bennett worked for Pratt & Whitney, McKesson and Sun Microsystems, and also spent time as an analyst and project manager for several hospitals before opening PHR Solutions.
For several years, Bennett had been active with the Central Palm Beach County Chamber of Commerce, serving on its Economic Development and Government Affairs committees. She is also a member of the Community Business Alliance and treasurer of the Huntington Woods Homeowners' Association. "I reduced their budget by about a third," Bennett said, regarding her work with her neighborhood HOA.
Among her top accomplishments, Bennett cites her family, starting her own company and acquiring several patents for her work.
"As the businesswoman and small business owner, I negotiated and received a contract from a $4 billion company that is in 179 counties and 11 countries and will produce the PHR ID cards and hire the local communities to do so," she said. "It was on CBS' Business Forum with David Weir."
Bennett said she has been a voice for the community on key issues, from extending State Road 7 to fighting against the new Federal Emergency Management Agency flood zone maps.
"I'm not just someone who shows up at election time," she said. "I've been fighting behind the scenes all along. I brought the FEMA issue to the chamber [last August]. I've been fighting for the State Road 7 extension and for economic development in our area."
Bennett said that if elected mayor, she would continue to push for the SR 7 extension and correcting the FEMA maps, as well as bringing additional revenue to the village.
Bennett said that having SR 7 extended through to Northlake Blvd. will benefit the village economically.
"I'd like to have that go through," she said. "More than 256,000 people use that road. Some of the communities were developed because State Road 7 was supposed to be put in place."
She said Royal Palm Beach should have a primary role in pushing for that extension. "We have the most to gain from it," she said. "We have to do what we can to be in front of it."
Bennett said that she would be willing to spend more than the $5,000 Royal Palm Beach has already contributed toward lobbying efforts.
If elected, Bennett said she would like to explore bringing new revenue streams into the village. She suggested developing a community pool at Royal Palm Beach Commons Park, as well as hosting a Festival of Lights, both which could bring in revenue.
"The community pool could go where the kayak area is," she said. "That would be a revenue generator for us. We could do this just by developing Commons Park into the park it should be, not throwing away money."
Additionally, she said local swim teams could practice at the pool, and the community could host swim meets and other events.
Another revenue generator will be the Aldi distribution center under construction on SR 7. However, Bennett said she is not sure the project will bring the promised jobs to Royal Palm Beach residents.
"Aldi will generate revenue based on square footage alone," she said. "When they talk about the number of jobs, I hesitate to go along with that. It doesn't mean they will hire from Royal Palm. They can hire from Greenacres or Wellington. I'd like to see hiring from within the community as a part of that."
Park maintenance makes up a large portion of Royal Palm Beach's budget, and Bennett said the pool could help offset those costs. She said she would not want to tap into reserve funds to cover the cost of maintenance.
"We sold the water rights to Palm Beach County and have another two-and-a-half years before our water rates increase," Bennett said. "What happens when that money runs out? Why do we have to touch it?"
The village has been plagued by traffic issues in the past, and Bennett said one way to curb the problem is to rethink construction on the roadways.
"Do it right the first time so you don't have to do it over and over again," she said. "We're going to have to do Royal Palm Beach Blvd. again because it has dips in it. So many people in Crestwood are fed up."
She also said adding turn lanes to Royal Palm Beach Blvd. south of Okeechobee Blvd. would help that area's congestion.
Commons Park has also caused an increase in traffic, especially during major events. Bennett said by adding more exits to the park, the problems could be lessened. "There's one way in and one way out," she said. "We could reroute the traffic to come out of another area and split the traffic."
For traffic on the northern end of the village, Bennett suggested repurposing some little-used parks, noting that a small park near H.L. Johnson Elementary School could be used to help ease traffic in that area. She said another park near the Madison Green community is also seldom used.
"People don't like to get rid of parks," she said. "But I think we have to look at how many people are using them. If they are going to be assessed more [to pay for maintenance costs], residents might be willing to look at it."
Development on the former wastewater treatment plant site could also affect traffic, depending on what type of residential community is built, Bennett said. She wants the proposals fully vetted by residents before building begins on the site.
"I wouldn't like it to begin any sooner than the summer of next year," she said. "I want the village to get resident feedback. I like the idea of residential homes that have acres to them. It doesn't need to be as dense as Saratoga or Saratoga Lakes, but no matter what you put there, it will impact traffic."
Bennett said that as mayor, she would push for fiscal and moral accountability. "By that I mean conducting meetings appropriately from the dais," she said. "If there is a problem, and you created it, fix it."
She said she does not believe Village Manager Ray Liggins is doing a good job managing the village. "I don't think he's doing his job adequately," she said. "When he makes mistakes, he should own up to them and fix them."
Though some have accused her of being a one-issue candidate who entered the race after construction on Royal Palm Beach Blvd. caused problems in her community, Bennett said she has long been involved in local politics and would still be in the race regardless of issues in Huntington Woods.
"I started with State Road 7," she said. "It didn't have anything to do with Huntington Woods. I've also spoken up on equestrian issues in Wellington."
She said she would like to see Royal Palm Beach be a more intergenerational community with something to offer residents of all ages.
"This is a wonderful place to grow up and raise your kids," she said. "I'd like to see it be generational… not a place you move out of because it becomes too congested or too concrete. We are between two prime generational communities — Wellington and Palm Beach Gardens — and I think we have the opportunity to learn from them how to make this a generational city."
Bennett said voters should choose her because she is a passionate, honest and responsible person.
"I'm the fresh voice, the entrepreneur and the businesswoman," she said. "I know how to bring in money, and I know how to save money. Why not vote for me?"