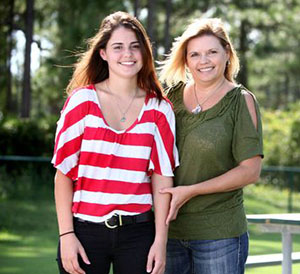 Acreage resident Tracy Newfield told the Indian Trail Improvement District Board of Supervisors on Feb.12 that she is making great strides with the Garden of Hope project to be located in the Acreage Community Park expansion area.
The project began three years ago at a Relay for Life event. "Actually, it began with my daughter who had cancer, and I started going to the Relay for Life," Newfield recalled. "If you have ever been to one, they are very emotional. The community has such great support, and it's a great fundraising event that I hope more people participate in."
Her daughter, Jessica, now 20, was diagnosed with cancer at age 11.
"Every year we get more and more donations, and donations stay in our community," she said. "They helped my daughter go to college. They help residents get rides to and from their treatments. It's a great charity to support."
Newfield came up with the idea for the garden after one of the relay events. "I sat down and drew out this idea of ribbons and bricks," she said. "I've been to many hospitals with my daughter and seen similar things, and I thought it would be a great idea for this community."
The garden design included paver bricks that can be purchased to inscribe at $50 each with three lines of 20 characters.
"I had to raise the price on them because I had to guarantee my husband that we will have funding, and I promised you all that it's not going to cost you anything," Newfield said. "It's all going to be done by donations."
People can also purchase a tree or a bench with an inscribed plaque. "I'm getting a lot of requests for benches and trees, and I'm hoping that I can convince you to allow me to do trees and benches throughout the park, saving you guys money," she said.
Newfield added that the Acreage Landowners' Association has welcomed the Garden of Hope project and allowed her to sit in their tent at the Acreage Community Jam to collect donations through popcorn sales.
"If I hear of somebody needing help, I bring it to the Acreage Landowners' Association, and they decide if it is a good cause and a helpful cause," she said. "Last year they raised $500, and this year they raised $1,000. We were able to give that directly to the American Cancer Society to help one of our families or friends in The Acreage."
They go beyond helping only cancer patients and last year were able to assist an Acreage resident who was in a motorcycle accident and had his arm amputated. They helped adjust his home to his handicap.
Newfield works with a board of directors on the Garden of Hope project including Peggy May, Meagan May, Joyce Gorring, Erica Dayton and Diana Demarest.
The Garden of Hope also does bake sales and sells cards for troops. At the Relay for Life, they sold butterfly nets and Seeds of Hope — packages of seeds and a pot — to keep with the Garden of Hope theme. They also sold chances for a spa package in a raffle.
People from outside The Acreage are coming to her for help with cancer patients, and they donate care packages to them. "But when I donate care packages to them, it comes back full force," Newfield said.
For example, she donated a care package to a cancer patient on a youth football team in Cooper City, and the mother donated $200 to the Garden of Hope, which enabled her to purchase the spa package that was raffled off at the relay.
She has sent care packages as far away as Texas and California.
Newfield has been making care packages at her own expense, but she plans to start asking for donations to help defray the cost.
"I personalize them to the individual," she said. "Sometimes I deliver them myself, and sometimes I have someone come with me. It really helps them feel better."
Newfield estimates that she has done more than 100 care packages.
Newfield also had someone create a web site, www.garden-of-hope.net, where people can make donations or order bricks at $50 each. She is looking for someone who can improve the design so people can also order trees or benches online and have a scrolling reminder of people to be remembered or honored.
On her Garden of Hope page on Facebook, Newfield has included stories of hope. "It's not all about people being sick or having cancer," she said, explained that it's also about good things that are happening inside and outside the community. "You can find great stories of people helping people. We also do community service for teens. With student government at Seminole Ridge High School last year, we were able to collect toys, and a couple of days before Christmas we delivered as many toys as we could."
Garden of Hope organizers hope to have a groundbreaking for the project soon, although a date has not been set.
Newfield stressed that she is still looking for donations for the inscribed bricks. The project will require about 400 square feet of bricks. Sponsors can have their name inscribed on a brick, bench or tree, and have their name on the web site.
Meanwhile, Newfield is going to invite people to help her finish the design of the garden. "This is your park, not my park," she said.
Newfield does not yet have a price on the benches, but is working with ITID Parks Director Tim Wojnar on that, explaining that the benches have a special significance since they allow people to share time with patients or with people they wish they could share some time with again.
"Through my experience with my daughter's illness, as a caregiver I understand what this does for people," she said. "It really changes their quality of life, even if it's just a minute of the day that they're not in pain, they're not suffering."
She thanked several members of the community for their help, including Ken Hendricks, who prints thank-you notes; Mike Erickson, who has offered to inscribe plaques for benches and trees; and Trisha Coats, who has helped with web design and hosting.
Supervisors commended Newfield on her work and the time that she has put into the project.
"I know it's a lot of headaches," Supervisor Ralph Bair said.
"Actually, it's a healing process for me," Newfield said. "I've been so blessed, and I'm just giving back."
ABOVE: Tracy Newfield with her daughter Jessica.