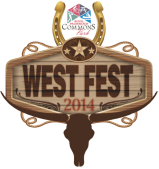 West Fest is returning Friday through Sunday, Feb. 28 through March 2, and it's being organized by the Village of Royal Palm Beach, which promises an event unlike anything the western communities have ever seen.
"West Fest used to be a big staple in our community for quite some time," said Community & Cultural Events Superintendent Carlos Morales, but it has been several years since West Fest has been held.
The event was previously produced by the Palms West Chamber of Commerce, now the Central Palm Beach County Chamber of Commerce.
"We want to have a big inaugural West Fest event, and we think we have a pretty good lineup of entertainment and activities," Morales said.
This time, the event is entirely produced by the village, which hired the entertainment and contractors such as a carnival company for the rides.
"This is our first time putting carnival rides at one of our major events. It's more than just a fun zone that we've had traditionally," Morales said. "We're going to have rides like you're used to at the fairgrounds."
Entertainment includes local country bands, as well as Nashville performers. "We have several Nashville recording artists," he said. "Tate Stevens is going to be our headliner on Saturday, March 1 at 8 p.m. We also have Tom Jackson performing for us on Sunday at 3 p.m."
Tim Charron will perform Sunday at 1 p.m. "We also have many great local bands," Morales said. "You can see our lineup at our web site at www.rpbwestfest.com. You can even see some performance videos."
A chili cookoff is also listed on the web site. "If anybody is interested in actually entering the chili cookoff competition, you can visit our web site and fill out some forms," he said. "There's a rule sheet on there, and we're looking forward to the public bringing out some really good home-cooked chili."
There is also a 5K run/walk on Saturday at 7:30 a.m., and people can still sign up for that on the web site. The Mr. and Miss West Fest Pageant will also be held in several age divisions.
"We'll also have food trucks out there," Morales said, as well as food vendors selling barbecue and conventional food and refreshments. "This is a complete western event. We're actually going to have a western encampment area, with tents so people can feel like they're in a Western town, with a blacksmith and wagons."
A simulated gold mine will also be set up where kids can pan for gold. Other attractions include petting zoos and swamp buggy tours, helicopter tours, and kayak and canoe rentals.
The Royal Palm Beach Police Athletic League will move its boxing ring to the park for a showcase on Saturday from 4 to 7 p.m. FPL will bring out an electric vehicle for display; Kindercare will set up an area; and Macaroni Kid will have a booth set up for arts and crafts.
The Acreage Horseman's Association and Florida Fish & Wildlife Conservation Commission will also participate, as will major sponsor Tree's Wings. "They will be serving alcohol and will have a swamp bar," Morales said of Tree's Wings.
A western-theme arts and crafts sale will also be set up. "These are really nice, western-attired arts and crafts vendors," he said. "People who take the time to shop these vendors will be quite impressed."
Roaming entertainers will be throughout the park, and the banquet garden will be set up on the north side, away from the stage so people can relax.
The park's standard Green Market & Bazaar will operate on Sunday as usual.
A fireworks show on Saturday at 9:30 p.m. will commemorate the one-year anniversary of the park.
"There's all kinds of activities that are going to be going on all weekend long," Morales said, adding that the main stage will be set up on the south end of the great lawn. "It's a much bigger stage than we've had before."
Western attire and lawn chairs or blankets are encouraged. Car-pooling is also encouraged. Off-site parking with a shuttle will be available if the parking areas fill up.
Admission to the event is free. Wristbands for rides are $20 per day. Alcohol brought in from outside the premises is prohibited.
Hours are 5 to 9:30 p.m. on Friday, 11 a.m. to 9:30 p.m. on Saturday (with the 5K at 7:30 a.m.), and 11 a.m. to 5 p.m. on Sunday (with the Green Market beginning at 9 a.m.). Visit www.rpbwestfest.com for more information.