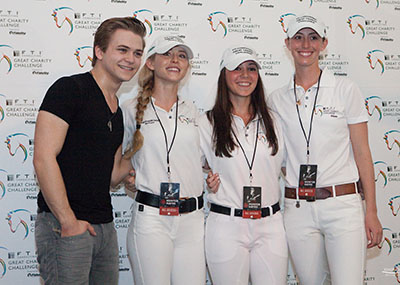 In a record-setting display of generosity, more than $2.25 million was distributed to local charities on Saturday, Feb. 1 as part of the fifth annual FTI Consulting Great Charity Challenge presented by Fidelity Investments.
Donors in the equestrian community and throughout the area helped the event smash its fundraising goal, giving away more money this year than ever before.
"It's an amazing night. It exceeded my expectations," said Mark Bellissimo, who founded the event in 2010 with his daughter, Paige. "We raised half-a-million dollars more than we targeted. It truly shows the passion of the equestrian community for Wellington and greater Palm Beach County."
The night was topped off with an electric performance by country music star Hunter Hayes, whose own charity — MusiCares — took third place and received more than $100,000 to help struggling artists. His performance helped bring more exposure to the great causes championed by the participating charities, Bellissimo said.
"I love being a part of an event that does so much good for so many nonprofits," Hayes said. "The sheer number of charities and important causes that receive funding through the FTI Consulting Great Charity Challenge is unmatched, and it's very meaningful to me to be able to add music and entertainment to the event."
Amid cheers from a record crowd at the Palm Beach International Equestrian Center, teams of riders raced over a course of jumps to determine their charity's placing. In the top slot, winning $150,000, was Speak Up For Kids, whose team included 10-time Olympian Ian Millar, Kelly Soleau and Emily Kinch.
Roger Rich of Speak Up For Kids said the money will go to help children who are abused, abandoned or neglected. "Just the fact that we were selected was so exciting, but to win is just fantastic," Rich said. "It has given us great exposure. We are so thankful to be involved and grateful to all the people who run this event."
Speak Up For Kids provides support to children as well as their court-appointed Guardian ad Litem volunteers — advocates for children who are involved in dependency court proceedings.
"Many times, children are kicked out of their homes and all they have is a garbage bag of clothing," Rich said. "We try to supplement that by giving them a sense of normalcy. We make sure they have proper school clothing, along with all the things they need for a normal life."
The $150,000 prize will help more than 1,700 kids currently going through the dependency court system. "The money will help us hire more staff to assist Guardians ad Litem in advocating on behalf of the children," he said.
Wellington children were also in the winnings, as the team of Ken Berkley and Chloe and Lilly Hymowitz jumped the Wellington PTO/PTA/PTSA group into second place for $125,000. The event has given almost $300,000 to Wellington schools in its last three years.
Binks Forest Elementary School PTA President Tanya Siskind called the prize a "huge gift."
"It takes so much time for us to fundraise money, so this is a wonderful win for us," she said. "To receive this much money from one source is a huge gift."
Wellington's 13 schools split the prize, with each school spending its portion to assist students however it is most needed.
"We'll continue to further our technology," Siskind said. "We still have great needs in that area. Everyone fills their own individual needs, but the need is there."
Polo Park Middle School PTSA teacher liaison Nora Bernstein agreed. "There are so many things our schools can use that money for," she said. "Public schools are only given a small pot of money each year, and we have to meet the needs of all our children. This is really a blessing."
Bernstein said Polo Park probably would use the money for tutorial programs for the Florida Comprehensive Assessment Test, as well as its summer prep program for incoming sixth-graders. "This is money well spent," she said. "All of Wellington's children will benefit from it."
Wellington-based charities took home more than $323,000 this year, with more than $952,000 total distributed to Wellington charities in the event's five years. Bellissimo has made a point to include local charities in the mix each year.
"It gives us a great opportunity to give back to Wellington," he said. "We make sure that at least one-quarter of the charities chosen come from Wellington. I'm so happy that the schools will be enjoying this gift. It's important that this goes back into the community to help our own."
The team of Doda de Miranda, Paige Bellissimo and Alex Crown helped MusiCares to a third-place finish and $100,000. The organization was awarded an additional $12,500, to bring its total winnings to $112,500.
The Great Charity Challenge has raised around $6.4 million for more than 100 charities in Palm Beach County over the past five years.
"We thank all of the riders, horse owners and the amazing sponsors who contributed to this important effort," Paige Bellissimo said. "Thanks to the support of this community, we have raised nearly $6.4 million over the last five years."
This year, the event surpassed its fundraising goal with a $50,000 donation from Elizabeth Freed's family foundation, which brought the donations over the $2 million mark.
But sponsors and donors continued to get swept up in the spirit of giving, and several charities walked away with additional money from random drawings and other means.
Dan and Ellen Crown matched their prize money for the Wounded Warriors of South Florida, adding $25,500 to the charity's earnings. Random drawings throughout the night saw 12 more charities add between $5,000 and $10,000 to their winnings. Meanwhile, local Little League organizations took home between $3,000 and $7,000 each to help finance their teams.
Bellissimo said the energy and passion of the event prompted donors to continue to give above and beyond their initial sponsorship.
"The random nature of the event is kind of exciting," he said. "We all have charities that are dear to us, and it's like a random act of kindness in giving back. People feel really good about participating. We have people from all over the country who have taken interest in giving."
Fans also got in on the participation, voting online every day for their favorite charities. Big Dog Ranch Rescue won first place and the $25,000 Fan Favorite award. Meanwhile, Healing Horse Therapy Center and Danny & Ron's Rescue came in second and third, respectively, and each took home an additional $12,500.
"More than 50 local groups will walk away with thousands of dollars, and 100 percent of that money stays right here in Palm Beach County," said Dennis Shaughnessy, retired executive chairman of sponsor FTI Consulting. "I can't think of another event that has such a far-reaching positive influence, and I'm proud that my company was able to contribute significantly to this year's allocations."
Bellissimo said he hopes to see the event grow in the future. "I hope it becomes one of Wellington's defining events," he said. "I think it was a wonderful event, and I'm glad we had a record crowd to celebrate what I think was a great moment in history."
For more info., visit www.ftigreatcharitychallenge.com.
ABOVE: Country music star Hunter Hayes with Paige Bellissimo, Alex Crown and Nicole Bellissimo at the Great Charity Challenge. Photo by Lexey Hall