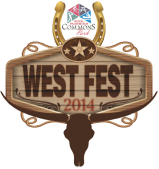 West Fest, "A Western Style Celebration," is being planned as a free community event at Royal Palm Beach Commons Park (11600 Poinciana Blvd.) from Friday, Feb. 28 to Sunday, March 2.
West Fest will mark the one-year anniversary of the grand opening of the park and will be a family-friendly weekend featuring performances, live music, displays, ATVs, airboats, swamp buggies and more.
Special events that require registration or pre-registration include a chili cook-off, a 5K run and the Miss and Mr. West Fest Pageant. Attendees, who will be able to try various chili recipes for $2, will judge the cook-off.
Royal Palm Beach staff member Carlos Morales suggests that attendees carpool and bring beach blankets, lawn chairs, towels or other seating. He estimated that there are approximately 1,600 parking spots, and if previous events are any indication, about 10,000 individuals will attend each day.
"This is something that is true to the community," Morales said. "Royal Palm Beach is a municipality, and we have this beautiful, brand-new park, and it's not only for our residents. We look at this park as being a regional park. That's why we went with the name West Fest. We invite all to come to this event."
Those attending can expect performances from local and national recording artists, including County Line Road, the Grayson Rogers Band, Tate Stevens, Tom Jackson and more. There will be carnival rides for all ages as well as displays, an area with a blacksmith, a medicine cart, gold mining and other child-friendly events.
On Saturday, the Police Athletic League will be doing a boxing show, which Morales said is also for kids of all ages. For food and refreshments, the Food Truck Invasion will be present and the Royal Palm Beach Green Market will run as normal on Sunday.
There are many things in the park to do, including visiting the splash pad or the golf range, and canoeing or kayaking around the park.
To learn more, or to register for events, visit www.rpbwestfest.com or call (561) 790-5149.