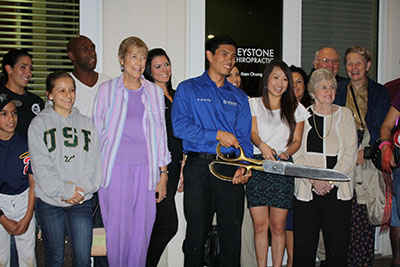 A rainy day in Royal Palm Beach couldn't put a damper on the ribbon-cutting party at the new Keystone Chiropractic. Dozens of happy patients and community leaders came out to enjoy a great evening in the area's first Structural Chiropractic health center.
Attendees were treated to catering from Whole Foods Market and received a Keystone Chiropractic gift bag full of giveaways and prizes. The event was sponsored by the Central Palm Beach County Chamber of Commerce and was attended by well-known community members like Marcus Nisbett of Ncognito Fitness, Kimberly Leland from Print-It Plus and leaders  from the Wellington Rotary Club.
"I'm thrilled to be a part of such a great and supportive community here in Royal Palm Beach," owner Dr. Jonathan Chung said. "I'm looking forward to working with the local fitness and medical community in bringing a gentle and specific approach to structural correction to the Palm Beaches. There is no shortage of people who are suffering from secondary conditions related to their spine and nervous system, and I just want to be a resource and solution for people who are suffering needlessly."
Keystone Chiropractic is a practice that focuses on Structural Correction. Chung is the lead doctor and one of 250 doctors who utilize the NUCCA protocol to bring about a precise, gentle and scientific approach to Structural Correction.
The practice is conveniently located on State Road 7, south of Southern Blvd. It focuses on correcting Atlas Displacement Complex as a way to help people with secondary conditions like migraines, TMJ, fibromyalgia and chronic spine pain.
For more information, call (561) 247-0044 or e-mail Brittany Dobbs at keystonechiropracticfl@gmail.com.
Above: Dr. Jonathan Chung leads the Keystone Chiropractic ribbon-cutting ceremony.