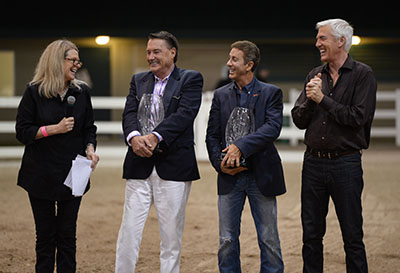 The equestrian community came together Friday, Jan. 31 for the fourth annual Equestrian Aid Foundation "Who Reins Supreme?" — an event at the Jim Brandon Equestrian Center supported by MeadowView Farm.
The event centered around a reining competition featuring hunter, jumper and dressage riders.
World-class riders Susie Dutta, Nick Dello Joio, Louise Serio and Nicole Shahinian Simpson showed off their newfound reining skills.
Accomplished reiner and trainer Mark Rafacz joined one of the all-time leaders in the sport, Tim McQuay, to captain the teams. Joio, Shahinian Simpson and McQuay were the winning team.
The 2014 EAF Luminary Award was presented to three Equestrian Aid Foundation founders, past presidents Robert Dover and Mason Phelps Jr., and the current president, R. Scot Evans.
"We founded this organization in 1996 to financially support those battling HIV/AIDS," Dover said. "As the EAF matured and grew stronger, we evolved into an organization providing financial help to those in the equestrian community suffering from any life-threatening illness or injury. I am honored to have been a part of this organization for so long and humbled by this award."
Phelps said he was grateful to be honored alongside Dover and Evans.
"It is immensely rewarding to see a community where members support each other, and together our efforts have truly made a difference," he said.
The event featured mixed drinks from Tito's Homemade Vodka, dinner provided by Aaron's Catering as well as an auction with great items.
"Outsiders often view the world of equestrian sports as a life of privilege. That is not always the case, however, and many people in our midst are in need of assistance," Evans said. "Who Reins Supreme provides an opportunity for the community to come together for an enjoyable evening while also raising money for a worthy cause."
For 17 years, the Equestrian Aid Foundation has delivered financial assistance to equestrians, horsemen and equine-related professionals who are suffering from catastrophic illnesses or injuries throughout their time of need. For more info., visit www.equestrianaidfoundation.org.
ABOVE: The 2014 EAF Luminary Award was presented to three Equestrian Aid Foundation founders, past presidents Robert Dover and Mason Phelps Jr., and the current president, R. Scot Evans. Photo by Meg McGuire