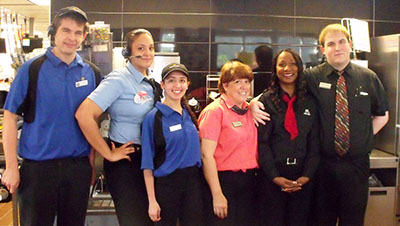 Amatoulaye "Ama" Balde, who oversees the Village Green McDonald's as operations supervisor with McDonald's WBF Management, has been named a winner of the prestigious 2014 Ray Kroc Award, an annual performance-based honor that recognizes McDonald's top one percent of managers nationwide.
Only the top-performing managers at the nearly 14,000 McDonald's restaurants in the U.S. will receive the award, which recognizes outstanding managers who bring company founder Ray Kroc's vision for excellence to life every day. Established in 1999, the honor comes with a cash award, a Ray Kroc Award trophy, and a trip to Chicago for the awards gala.
"Working with McDonald's is more than a job, it's being part of a family," Balde said. "The people aspect of the work is what I love most — building a team committed to serving customers at the highest level possible is very exciting."
A native of France who came to this country in 1999, Balde attended college in Virginia and worked in the human resources field before joining McDonald's in 2009.
"Ama is an inspiring leader who cares deeply about delighting her customers, developing each person on her team and serving her community," said Brent Bohn, a partner with Mark Watson in WBF Management.
McDonald's owner/operators and regional staff nominate restaurant managers for the Ray Kroc Award to recognize their hard work and dedication to McDonald's. From there, a selection committee chooses the top one percent of McDonald's restaurant managers for the award.
ABOVE: Alma Balde with her team at the Village Green McDonald's.