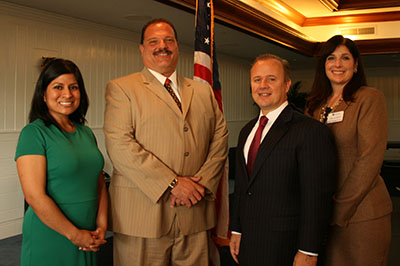 Caroline Villanueva of Florida Crystals addressed the Central Palm Beach County Chamber of Commerce during a breakfast meeting Wednesday, Feb. 5 at the Wanderers Club in Wellington.
Florida Crystals is the world's largest refined cane sugar producer and a multinational company with sugar mills and refineries in nine countries, headquartered in Palm Beach County.
Villanueva discussed the opportunities possible with her firm's planned South Florida Intermodal Logistics Center (ILC) inland port. "What is the ILC? It is primarily intended to serve Central America, South America and the Caribbean. The ILC is a concept beyond the traditional industrial park," Villanueva said.
A key component to the idea is U.S. 27, which already serves as a freight corridor alternative to Interstate 95, which is extremely busy. In contrast, U.S. 27 is underutilized and has available capacity. Essentially, there is not much traffic using it, and the road can easily handle more trucks.
Compared with the current imports from Savannah, Ga., there would be a 24 percent logistics cost savings by utilizing an ILC in western Palm Beach County.
"The market here is up to 12 million people within the Caribbean basin," Villanueva said. "There's only so much land, and most are not large parcels, such as ours."
The site can easily be accessed from U.S. 27. It is 54 miles from the Port of Palm Beach, 67 miles from Port Everglades and 85 miles from Miami; 81 miles to Fort Pierce and 133 miles to Naples. All of the locations are within two hours' drive time.
The 850-acre parcel of land is designated as industrial and is close to existing infrastructure. The site is already prepared with water and electricity.
Villanueva estimated that unemployment in the Glades area, where the parcel is located, is more than 30 percent. While the site is near the Tri-Cities of South Bay, Belle Glade and Pahokee, the land is within unincorporated Palm Beach County.
"It's all about location, location, location," she said. "Our site, which is 850 acres, is planned for up to 10 million square feet."
There are other inland port locations under consideration around Florida, but they are constrained in size, Villanueva said, in some places up to 100 acres are available, in comparison to Florida Crystals' 850 acres.
There has been speculation about the option of adding a railway alongside U.S. 27 to allow rail traffic to the center of the state, making transporting goods more efficient. It would also increase the effectiveness of the ILC location, which would have a substantial economic impact on the area.
"We'll make a significant dent in decreasing the 40 percent-plus unemployment rate in the Tri-Cities area," Villanueva said.
At least 3,000 full-time jobs could be created on-site, noted Wayne Burns, CEO of the chamber. "This inland port idea really is about being a hub for distribution and redistribution," he said.
The industries that would come to the area would be clean industries, such as distribution and repacking, or assembly and light manufacturing.
"If a company wants to come here and build a facility here, and they want to take a half a million square feet and put buildings or a campus out there, everything is ready to go," Burns said. "You've got power, you've got water, you've got roadways."
The project is important for diversifying the regional economy, Burns said.
"This is a major opportunity for us to be ready for the next downturn," he explained. "This is a rare moment for us, to be in a competitive environment where you can actually win in this arena. We have the land, we have a company that is behind it, we have a business community that understands it and wants to get behind it. When this goes to the county, when this goes to the state, we have to show our support for this. This is really going to be a major economic driver for us."
ABOVE: Caroline Villanueva of Florida Crystals with chamber officials Wayne Burns, Frank Gonzalez and Mary Lou Bedford.