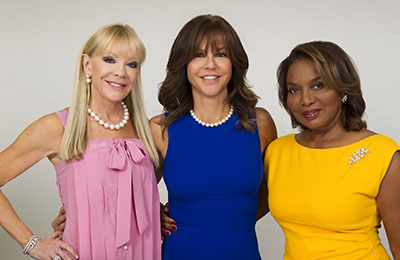 The Center for Family Services' 16th annual Old Bags Luncheon, one of the most popular luncheons of the season, will take place Thursday, Feb. 27 at 10:30 a.m. at the Breakers Palm Beach.
Linda Adelson, Lorrain Hall and Soula Rifkin will serve as chairwomen. Honorary chairs are Joan Klann and Kitty Silverstein, and advisory chair is Judi Richards.
The exciting event features a magnificent silent auction of more than 300 designer handbags, jewelry, a raffle and a luncheon featuring comedian Darrell Hammond.
Proceeds from the Old Bags Luncheon benefit the Center for Family Services' programs provided to children who suffer from domestic violence, sexual abuse or homelessness.
Tickets cost $350 per person. Major sponsors of the luncheon include Saks Fifth Avenue and Neiman Marcus. The jewelry sponsor is Kaufmann de Suisse, the corporate sponsor is PNC Bank and the media sponsor is Palm Beach Illustrated.
For tickets, or more information, contact Stanton Collemer at (561) 616-1257 or scollemer@ctrfam.org, or visit www.ctrfam.org.
ABOVE: Linda Adelson, Soula Rifkin and Lorrain Hall.