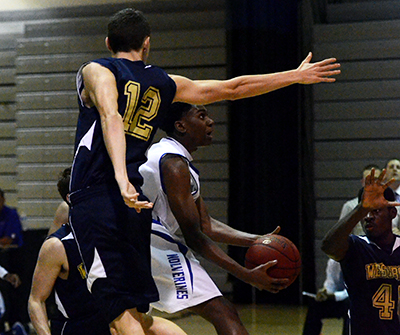 By Gene Nardi
The Wellington High School boys varsity basketball squad hosted West Boca Raton High School on Friday, Jan. 31, falling to the Bulls 71-53.
Early on, it appeared the Wolverines had all the right moves, leading the Bulls 30-28 at the half. However, the Bulls were able to mount a second-half rally midway through the third quarter that forced Wellington (14-11) into a defensive situation.  West Boca took advantage of Wolverine turnovers, converting them into points.
The Bulls were also accurate at the free-throw line. The Wolverines had equal opportunity to convert at the line but could not seem to finish, which may have been the difference in the contest. The tide turned at the 3:46 mark in the third quarter when the Bulls regained the lead 39-38 and held on, despite a valiant Wellington come-back attempt. Turnovers proved costly for the Wolverines, and West Boca managed 26 points in the final quarter to put the game out of reach for Wellington.
Steven Coulanges put up 21 points and had 14 rebounds for the Wolverines.
Third-seeded Wellingtons plays second-seed Palm Beach Gardens in the District 9-8A playoffs Friday, Feb. 7 at Palm Beach Gardens High School.
ABOVE: (Left) Gerry Milligan presses through the West Boca defense. (Right) Wellington's Aaron Kwiatek shoots for two points.
Photos by Gene Nardi/Town-Crier