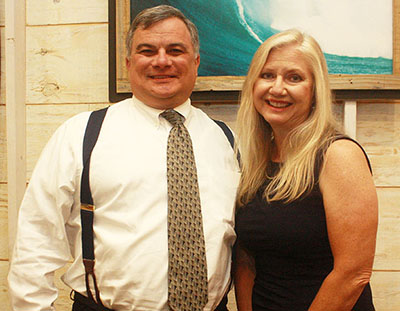 Wellington Vice Mayor Howard Coates and Councilwoman Anne Gerwig were the victors in Tuesday's municipal election, handily beating back challenges from two political newcomers.
"This is a vindication of the policies that Anne and I have pursued over the last several years," Coates told a group of supporters for both candidates gathered at Hurricane Grill & Wings. "Hopefully it will be a symbol of the direction this village is moving in going forward."
In the race for Wellington Village Council Seat 2, Gerwig took 2,559 votes (63 percent) to 1,524 votes (37 percent) for seniors activist Sharon Lascola, according to unofficial results from the Palm Beach County Supervisor of Elections office.
In the Wellington Village Council Seat 3 election, Coates took 2,320 votes (57 percent) to 1,760 votes (43 percent) for education activist Matt Kurit, also according to unofficial results.
Just under 4,100 voters took part in the Wellington election.
Gerwig thanked her supporters and all the voters who came out on election day.
"I'd like to thank everyone for being unbelievably, overwhelmingly supportive on this day and the past six months since I started campaigning," she said. "Thank you so much for being Wellington, for knowing who we are and what we're here for."
Coates agreed, giving a special thanks to all the volunteers who waved signs and helped get his message out.
"I know there were votes that were achieved today because of our poll workers," he said. "I'd like to thank the voters who voted. Without them, we wouldn't be able to celebrate tonight."
Both victors said the results were a win not just for their campaigns, but also for nonpartisan politics in Wellington. The election saw an influx of money from the Democratic Party supporting Kurit and Lascola.
"That's what we saw in this election, the effort of one party to try to come in behind the scenes and divide this community on a partisan basis," Coates said. "I think, if anything, the votes Anne and I received are a rejection from the people of Wellington, saying that we are going to continue to be nonpartisan."
He said the issues that affect Wellington as a community don't fall along partisan lines.
"It doesn't matter whether you're an R or a D when you're up on that dais deciding whether we fill in potholes, and that is what residents want," Coates said.
Gerwig said Wellington is a community filled with people who care about more than just one issue.
"We are a community," she said. "We're not a party. We're not one side or another. We're not just equestrians or non-equestrians. We're a community of people who care."
In her next term, Gerwig said she'd look toward bringing more amenities to Wellington residents, possibly in the form of a performing arts center.
"I'd like to see some progress toward a performing arts center," she told the Town-Crier Wednesday. "If there is some community-based support, I think we could make some progress toward it. A lot of people have approached me about it."
Although she said it is a "lofty goal," Gerwig said Wellington has a need for a venue to support the community's interest in the arts.
"There has been some interest in a black box theater, something small and intimate," she said. "We have such enormous talent in this community. Wellington Idol has become so popular. I think, if there is community support for it, it could be a great venue. We need to continue to do things to attract young families to the area."
She also hopes to see a decision on the K-Park property.
"We need to come together to make some decisions," Gerwig said. "It's time for us to have that conversation."
Overall, Gerwig said she was overwhelmed by the support of the community and thanked all the organizations that supported her.
"I'm really overwhelmed by the community support this time," she said. "My campaign team was filled with great people. It was really positive and a great experience to have."
Coates said Wednesday that he wants to see the Wellington Community Center rebuilt during his next term.
"It has been a work in progress for almost three-and-a-half years," he said. "I think it needs to get done. I hope the council will go a different way on the tennis center. But whether that happens or not, the priority needs to be getting this community center built for our seniors and the other people in the community looking forward to the new facility."
He said he also wants to revisit the once-planned medical arts district, as well as improve Wellington's infrastructure.
"I want to make sure we continue to put the infrastructure into place to protect the community from flooding," Coates said.
Lastly, he will continue to support the Safe Neighborhoods initiative.
"I want to continue with the initiative we've had to rehabilitate some of our distressed neighborhoods," he said. "We want to make our neighborhoods safer and more aesthetically pleasing for all our residents."
Coates said he hopes his term will see the community continue to heal and come together on the issues that have divided it in recent years.
"I hope we can focus on finding harmony in solutions instead of ways to divide ourselves," he said.
ABOVE: Wellington Vice Mayor Howard Coates and Councilwoman Anne Gerwig celebrate their re-election wins Tuesday night.